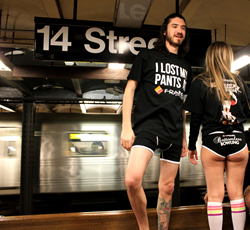 Improv Everywhere was hosting their annual NO PANTS SUBWAY RIDE, and Frames Bowling Lounge wanted to get in on the action with a marketing message.
New York, NY (PRWEB) January 12, 2015
On a cold January afternoon, dozens of volunteers and promotional models gathered at Frames Bowling Lounge in Midtown to embark on a marketing gig that would involve them riding the subway without pants.
Improv Everywhere was hosting their annual No Pants Subway Ride that has since spread to 50+ cities across the globe, and Frames wanted to get in on the action with a marketing message. The NO PANTS ride launched in NYC in 2002, and has become an annual event drawing thousands of locals who remove their pants and ride the subway nonchalantly, as if chilled legs were the norm on a freezing Sunday afternoon in January.
The group at Frames enjoyed complimentary food and drinks at the bar as they were handed out promotional tees that read "I Lost My Pants at Frames NYC" across the chest, and logo'd underwear that read "Bottomless Bowl" across the backside. When the Improv Group gave the sign to drop trou on the C train, their marketing message would ring loud and clear: Bottomless—Unlimited—Bowling was available at Frames, and now all of NYC would know.
The team of 20 guys and girls from Frames NYC walked around subway stations in their promo briefs from SPRING ST to 59th, handing out tees to unsuspecting riders, and creating a scene that left an impact in every car they entered.
This guerilla marketing move is part of a larger print ad campaign that Frames Bowling Lounge is rolling out in January and February across 1,000 subway cars. The campaign features the back of a guy and girl bowling in briefs and reads "Bottomless Bowl" in red print across bottom.
Frames NYC is advertising their Unlimited Bowling Package, which is available every weekend; Fri and Sat after midnight and Sunday eves after 7pm.
ABOUT FRAMES BOWLING LOUNGE:
For five years and counting, Frames Bowling Lounge has brought modern sophistication to the age-old, carefree sport of bowling. Located on the corner of 9th Ave and 40th Street, the 35,000 square foot entertainment complex boasts 28 bowling lanes, a private VIP room, 2 bars featuring an extensive liquor selection, laneside menu service, a full-service billiards lounge and a plush dance lounge.
They are open 7 days a week, please call 212-268-6909 for hours of operation and reservations.