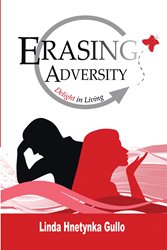 It's a message of how to use your experience as a stepping stone.
CHICAGO (PRWEB) January 14, 2015
Disasters provide life's greatest defining moments, if we allow them to. When her husband experienced an accident nearly killing him, author and counselor Linda Gullo learned the importance of embracing hope in times of tragedy.
In her new book, "Erasing Adversity," Gullo uses her family's trial to guide others through their own obstacles.
After her husband's life-altering accident, the following 24 years of Gullo's life would be different as her family learned the importance of embracing a negative situation and allowing it to bring positive transformation. Gullo witnessed how her family's trauma shaped each of her children into mature and strong adults.
"This is a story of hope," said Gullo. "It's a message of how to use one's experience as a stepping stone."
As a practicing counselor, Gullo has seen the heartache adversity causes families and seeks to provide readers with options and opportunities when navigating trying situations. Rooted in faith, "Erasing Adversity" will provide readers with the tools to create their own happiness in times of hardships.
For more information, http://www.erasingadversity.com
"Erasing Adversity"
By: Linda Gullo
ISBN: 978-1499074789
Available in softcover, hardcover, e-book
Available on Amazon, Barnes & Noble and Xlibris
About the author
Linda Gullo uses her experience from teaching, ministry, and psychotherapy to provide excellent counseling services at Delight in Living, Ltd. Gullo is also an active member of the CL Chamber of Commerce having served on numerous Boards and as an Ambassador. She is a Charter member of the CL Kiwanis and helps with their programs to serve youth. Gullo resides in Crystal Lake, Illinois with her husband and family.
# # #