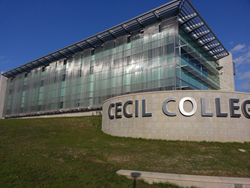 "We chose Cambridge Cubist mesh for its solar shading characteristics, aesthetics & durability. Other alternatives such as louvers or canopies would not address the issue of the angled horizontal light." Rick Barton, architect, Marshall Craft Associates
Cambridge, Maryland (PRWEB) January 13, 2015
Nineteen massive stainless steel mesh sunscreens from Maryland-based Cambridge Architectural adorn the façade of the new Cecil College Engineering & Math building in North East, Maryland.
The impressive, three-story, 26,683 square-foot structure is a base for STEM education and training to support industry and technology along the I-95 corridor between Baltimore and Philadelphia, which includes industry giants such as DuPont and W.L. Gore Associates and BRAC-related Aberdeen Proving Ground and Edgewood Arsenal.
"This building is out front and creates a bold sense of arrival, a place of importance in Cecil County," said Dr. W. Stephen Pannill, President of Cecil College, at opening ceremonies in October 2014.
The Cambridge sunscreens -- which each measure 81 inches wide and 350 inches high -- create a dramatic visual effect while providing solar shading over the building's west-facing glass curtain wall where the setting sun shines into the windows at a horizontal angle.
"We chose Cambridge Cubist mesh for its solar shading characteristics, aesthetics and durability," said Rick Barton, architect and project manager for Marshall Craft Associates in Baltimore. "Other solar shading alternatives such as louvers or canopies would not address the issue of the angled horizontal light."
The mesh, which totals 3,725 square feet, was specified by Marshall Craft for its 80 percent open area and ability to span the entire façade.
"Our Cubist mesh is manufactured utilizing flat wire," explains Cambridge Architectural Managing Director Matt Aebischer, "and, depending on the orientation of the mesh and building, delivers lower shading coefficients when compared to alternative shading solutions."
The mesh is secured to the structure with Cambridge Architectural's patented Eclipse attachment tube system.
"The sunscreens fit neatly into laser-cut openings in the stainless steel attachment tubes and are then stretched in-tension," Aebischer said.
Cecil's $19.7 million E&M building houses engineering and physics learning laboratories, a math tutoring and testing center, a conference and data distance learning room, group and quiet study areas and an outdoor terrace.
The E&M building was designed and constructed to attain LEED Silver certification, which would be a first in Cecil County. In addition to the heat-gain reduction provided by Cambridge's mesh sunscreens, the facility's design incorporates a number of other sustainable design features including a green vegetated roof, energy efficient lighting and HVAC and a storm water reclamation system.
Project Details
Architect: Marshall Craft Associates, Baltimore
Construction Manager: Riparius, Hunt Valley, Maryland
Mesh Installer: Cambridge Architectural
Opening Date: October, 2014
Material: T316 Stainless
Cambridge Mesh Pattern: Cubist flat wire
Cambridge Attachment System: Eclipse
About Cambridge Architectural
Cambridge Architectural, a division of Cambridge International, is the most experienced full-service provider of sustainable architectural mesh systems for both interior and exterior building applications. As the world leader in tensioned mesh systems, Cambridge Architectural metal fabric solutions lend unique aesthetic appeal, functionality, affordability and sustainable benefits to a variety of structures interior and exterior. Cambridge Architectural offers full system design, engineering and collaboration from concept through installation – in the most challenging building environments and under the strictest budgets. Cambridge Architectural metal fabric systems are categorized by the primary applications they serve, including parking structures, exterior shades, facades, canopies, curtains and others. As a member of the United States Green Building Council, Cambridge Architectural is committed to promoting methods, technology and products resulting in environmentally responsible and healthy buildings. The Cambridge Architectural team develops systems that meet or exceed LEED requirements and provides consultation and direction on a project-by-project basis. Visit http://www.CambridgeArchitectural.com for more information.