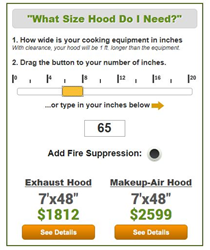 What Size Exhaust Hood do I Need?
GRAFTON, OHIO (PRWEB) January 13, 2015
HoodMart.com new Exhaust Hood Calculator will quickly help the customer determine the size of hood that they need. When getting ready to order an exhaust hood system a question often asked is "What should the proper length of my exhaust hood system be"?
HoodMart.com is taking the guesswork out of calculating the length of the hood needed with the addition of the New Exhaust Hood Calculator. The exhaust hood canopy should be sized to provide adequate overhang of the cooking equipment.
Not only will the exhaust hood calculator help determine the length of the hood needed but it will also give the price of the Hood Package with and without a Fire Suppression System.
HoodMart.com wants to make the hood buying experience as easy as possible.
Try out the new Exhaust Calculator at http://www.hoodmart.com/exhaust-hood-calculator/ or call 1-800-715-1014 and speak with a knowledgeable sales associate that can help answer any questions.
HoodMart.com is "Your One Stop Hood Shop" for high quality commercial and restaurant kitchen exhaust, grease, odor and fume ventilation equipment. Every HoodMart commercial kitchen exhaust hood & ventilation system is available with or without pre-piped fire suppression. HoodMart offers range hoods in a variety of sizes from 4' to 30'. HoodMart hoods are 'Guaranteed to Pass All State and Local Codes'. ETL listed to the UL710 Standard, built to the NFPA 96 Standards and NSF Marked. For more information visit HoodMart's Factory Direct web site http://www.hoodmart.com/ or Call toll free for help at 1-800-715-1014
Judy Thomas
National Sales Manager
HoodMart, Inc.
1-800-715-1014
sales(at)hoodmart(dot)com
http://www.hoodmart.com/