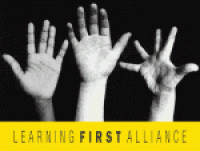 Washington, DC (PRWEB) January 12, 2015
The Learning First Alliance (LFA), a partnership of leading education organizations representing more than 10 million parents, educators and policymakers, released a white paper today with key lessons from the field on Common Core implementation: "Getting Common Core Right: What We've Learned."
"There is more to successful Common Core implementation than simply added time," said Cheryl Scott Williams, LFA's Executive Director. "It takes leadership, courage and on the ground support to ensure effective implementation is happening in urban, suburban and rural communities throughout the country."
"Getting Common Core Right: What We've Learned" details examples from the field and promotes best practices from large states to small districts. In California, state leaders have used a multi-stage process to phase-in the standards and connect them to teacher evaluations. In Toledo, Ohio, significant efforts have been made to involve practitioners in the process to understand the professional development supports necessary for success.
"Common Core standards are essential to helping all our kids achieve at a high-level regardless of where they live," said Williams. "Over the past year, we have reached out to successful practitioners and stakeholders, asking them to share their experiences and wisdom through the Get It Right Campaign so others can learn from these experiences."
Lessons learned from those in the field provide an important blueprint on how to take advantage of extra implementation time and make the best use of instructional materials, high-quality professional development and stakeholder engagement to the benefit of children, families, educators and the community at-large.
To learn more about the LFA, visit http://www.learningfirst.org.
###
About The Learning First Alliance
The Learning First Alliance is a partnership of leading education associations with more than 10 million members dedicated to improving student learning in America's public schools. Alliance members include: the American Association of Colleges for Teacher Education, AASA: The School Superintendents Association, American Federation of Teachers, American School Counselor Association, International Society for Technology in Education, Learning Forward (formerly National Staff Development Council), National Association of Elementary School Principals, National Association of Secondary School Principals, National Education Association, National PTA, National School Boards Association, National School Public Relations Association, Parents for Public Schools and Phi Delta Kappa International. The Alliance maintains http://www.learningfirst.org, a website that features what's working in public schools and districts across the country.