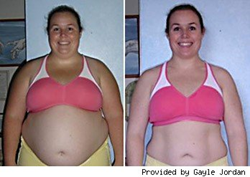 Diet Doc developed their diet plans that uncover the real reason for weight gain, including hormonal imbalances.
Houston, TX (PRWEB) January 13, 2015
While belly fat can be described in a number of different ways, including abdominal obesity, beer belly, muffin top, spare tire, love handles and middle aged spread, the truth remains - belly fat is belly fat. It is embarrassing, uncomfortable and hard to lose. While genetics definitely plays a role in one's propensity to accumulate fat in the abdominal region,hormonal imbalances can also contribute to excess fat storing itself in this area of the body.
Because Diet Doc knows that people throughout the country waste time and money on fad diets, miracle weight loss drugs and gadgets advertised to melt fat overnight, they have developed their diet plans that uncover the real reason for weight gain, including hormonal imbalances. These diet plans really work by addressing hormonal imbalances and targeting and attacking stored fat that has become nestled comfortably in the hard to reach areas.
Hormones, chemical messengers that trigger and regulate the body, can play an important role in where fat is stored in the body. Estrogen will push fat storage to the hips, thighs, and buttocks. This explains why many menopausal women will notice a change in their body shape as they age. When estrogen levels decrease, fat storage is forced to the abdomen. Likewise in men, testosterone deficiency is correlated with more abdominal fat. In addition, the overproduction of cortisol, the stress hormone, can also result in fat accumulating in the belly. While some display telltale signs and symptoms of a hormonal imbalance, such as hot flashes, drastic mood swings, fatigue, depression, unexplained weight gain and difficulty losing excess weight, many others do not relate these symptoms to their hormones and many are too embarrassed to consult face to face with their doctor to discuss their sudden physical and emotional changes.
New patients who are interested in learning why they are gaining weight and why they find it so difficult to lose will first complete a health questionnaire that enables the doctors to review and assess past medical history and current conditions. Next, patients will schedule an online consultation with one of Diet Doc's physicians to discuss eating habits and weight loss goals. The doctor will review the entire system to uncover the real reason for weight gain. These issues will be addressed when the doctor makes recommendations for the weight loss method that will be most compatible with each patient's personal nutritional, medical and lifestyle needs.
Patients will then work with certified nutritionists to design meal and snack plans that are appealing, easy to follow and that incorporate a wide range of healthy food choices that keep the body nourished and leave patients feeling full and satisfied. Those who qualify may wish to enhance the speed at which they lose dangerous and embarrassing belly fat by adding Diet Doc's prescription hormone diet treatments, exclusive diet pills and powerful fat burners and appetite suppressants to balance the hormones and reset the metabolism. This unique blend burns belly fat by signaling the hypothalamus to seek out fat that is stored in the hard to reach areas to be released into the bloodstream, burned for energy and quickly flushed from the body. Patients report the very rapid and very noticeable loss of pounds and inches in these difficult to lose areas, with many reporting a loss of 20 pounds or more per month.
Because Diet Doc is committed to helping all patients safely and successfully lose belly fat, they monitor their patients via weekly checkup calls, enabling the doctors to assess attitude, comfort level and weight loss progress. This personal attention quickly alerts the doctors of weight loss plateaus, allowing them to immediately modify diet plans or medication levels to return the body to fast burn mode.
And because Diet Doc understands that visiting doctor offices and weight loss clinics can be embarrassing, costly and time consuming, they have partnered with Telemedicine, enabling their patients to consult with a Diet Doc physician, access their personal weight loss team and order their prescription hormone treatments and supplements with privacy and convenience via the phone or internet. This level of personal attention is unparalleled by the competition and allows Diet Doc patients to transition safely, smoothly and comfortably from carrying too much weight due to undiscovered hormonal imbalances and sluggish metabolisms, to restored physical and emotional health.
About the Company:
Diet Doc Weight Loss is the nation's leader in medical, weight loss offering a full line of prescription medication, doctor, nurse and nutritional coaching support. For over a decade, Diet Doc has produced a sophisticated, doctor designed weight loss program that addresses each individual specific health need to promote fast, safe and long term weight loss.
Diet Doc Contact Information:
Providing care across the USA
Headquarters:
San Diego, CA
(888) 934-4451
Info(at)DietDoc(dot)info
http://www.dietdoc.com
Twitter: https://twitter.com/DietDocMedical
Facebook: DietDocMedicalWeightLoss