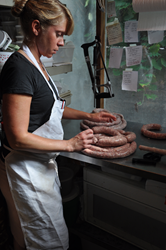 CAMBRIDGE, Mass. (PRWEB) January 13, 2015
Joining a class of nationally recognized food artisans, Formaggio Kitchen charcutière, Julie Biggs is a 2015 Good Food Award recipient for her Tongue and Cheek Terrine and Summer Sausage, which is made at the gourmet food retailer's Cambridge, Mass., shop.
Chosen from 1,462 food producers from across the country by a panel of food luminaries, food journalists, chefs, and restaurant owners, Julie was honored with two of only 146 awards that were given this year. The goal of the Good Food Awards is to enhance the agricultural landscape and to build strong communities through food, so the recognition is bestowed on those who push their industries towards craftsmanship and sustainability. In its fifth year, the awards were given in 11 categories including: beer, charcuterie, cheese, chocolate, coffee, confections, pickles, preserve, spirits, oil, and a new category, honey.
The winners were announced at the annual ceremony on January 8, held at the Palace of Fine Arts Theater in San Francisco, Calif., and Biggs was celebrated alongside fellow honorees with a keynote address from author and New York Times food writer, Mark Bittman.
"Julie's charcuterie creations have earned a devout following among our customers," said Ihsan Gurdal, owner of Formaggio Kitchen. "Julie takes the art of preserving meat very seriously, and her passion and handiwork means we get to offer our customers the highest standards of quality and taste. We are so excited to see her excel on a national level and have no doubt that she will continue to make us proud with her incredible talent."
The Formaggio Kitchen Tongue and Cheek Terrine is made using locally sourced beef cheeks and pork cheeks, garnished with diced corned beef tongue, and wrapped in guanciale. The Summer Sausage is made from local pork shoulder, local beef brisket, onion, garlic, nonfat dry milk, fermento, dry mustard, spices, marjoram, salt, curing salt, sugar, and hog casings and is hot-smoked over natural charcoal and applewood. In addition to its availability on the Formaggio Kitchen website, the Tongue and Cheek Terrine can be purchased from Food52's Good Food Awards 2015 collection.
"When a finished product is greater than the sum of its parts and is recognized as such, it's so rewarding," noted Biggs. "It is such an honor to be a recipient for this year's Good Food Awards, and I couldn't be happier to bring it home for my Formaggio Kitchen family."
To learn more about Formaggio Kitchen, please visit http://www.formaggiokitchen.com.
###
About Formaggio Kitchen
Formaggio Kitchen is a specialty foods retailer with locations in Cambridge, MA, Boston's South End and at Essex Market in New York City. For over 30 years, Formaggio Kitchen has supported small farms and individual artisans by traveling the world to find the most authentic, unique and delicious foods from around the globe and bringing them back to their dedicated customer base. Specializing in cheese, gourmet foods lovers can find everything from wine, olive oil, cured meat and baked goods to honey, jam and spices that cannot be found anywhere else in the U.S. http://www.formaggiokitchen.com