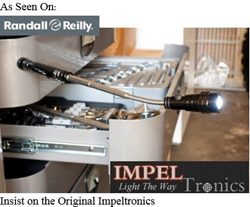 Lewisberry, PA (PRWEB) January 13, 2015
The 3 LED Telescoping Magnetic Flashlight extends from a compact 6.75 inches to almost 22 inches and also has magnets at both ends of the flashlight. The strongest magnet is actually in the tail end of the flashlight, which boasts a pick up capacity up to 8 lbs. This feature is great for keeping the flashlight in place while work is being accomplished under the bright LED lights. This product is constructed of a sturdy aluminum telescoping magnet that includes a strong stainless steel pocket clip.
The company that created the video featured (https://www.youtube.com/watch?v=vD4_SdxokSg) is Randall Reilly. Randall-Reilly was started in 1934 by Henry Pettus Randall Jr. It was launched as Who's Who Among Students in American Universities & Colleges, a prestigious recognition program, however today Randall Reilly has evolved into a well-known marketing services provider to the trucking, construction and driver recruiting industries. Within that realm they have multiple digital/print brands to reach those clients. Those include Hardworkingtrucks.Com, Equipment World, Total Landscape Care, Better Roads, Overdrive and CCJ magazines and their related websites. Randall Reilly is a well-known name and a leader in reaching those markets. This marketing services company has the capabilities and the tools to reach any market. Always innovative, always effective, the company strives to know the industry better than anyone else. They serve clients by providing insights into specific market segments and then provides targeting platforms to engage with those audiences.
Impeltronics offers the LED Extendable Magnetic Telescoping Flashlight pick up tool in colors – silver, black, pink, red, blue and has recently added orange.
Impeltronics, a wholesale manufacturer of high quality high lumen LED Flashlights, offers everyone a "strategic advantage against the darkness". Whether it's in search and rescue, hunting and fishing or in need of light and magnetism in any application, Impeltronics invites everyone to "Light the Way".
Watch the video here: https://www.youtube.com/watch?v=vD4_SdxokSg
To learn more about the LED Telescoping Magnetic Flashlight or Randall Reilly visit these websites: http://www.impeltronics.com/ and http://www.randellreilly.com/
Media Contact
Michael Pastal
717-440-6018
mpastal(at)impeltronics(dot)com