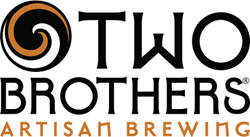 Scottsdale, AZ (PRWEB) January 13, 2015
Jim and Jason Ebel, founders of Two Brothers Brewing Company, announced today the grand opening of Two Brothers Taphouse and Brewery in Scottsdale on Jan. 22.
Two Brothers Brewing Company is tapping into a new generation of craft beer enthusiasts in Arizona. According to the Arizona Craft Brewers Guild, craft beer sales have grown more than 18 percent in Arizona in the last year.
"Arizona has a thriving craft beer culture, and we are excited to give Scottsdale a taste of our Midwest flavor," Jason Ebel said. "This region is also full of flavorful unique and native ingredients; we look forward to incorporating them into our future beer and menu offerings to specifically cater to the Southwest."
The grand opening is scheduled to take place at 6 p.m., with a ceremonial ribbon-cutting officiated by Scottsdale mayor, Jim Lane. The restaurant will be open to the public January 23rd at 3 p.m. for lunch and dinner. Beer enthusiasts, craft beer fans and the local community are invited to taste a full menu of upscale pub fare and specifically tuned beers for the Arizona market.
"Arizona Craft Breweries are experiencing monumental growth as consumers begin to call for craft beer experiences and flavors in their communities and neighborhoods," Rob Fullmer, Executive Director for the Arizona Craft Brewers Guild said. "The Arizona Craft Brewers Guild welcomes those committed to building breweries, enriching our cities and towns and employing Arizonans. We are excited for the prospect of Two Brothers Brewing coming to Scottsdale and joining our fight to remove bureaucratic barriers to the growth of the brewing industry and the beer community."
Located in the heart of Old Town Scottsdale, the 8,165-square-foot Two Brothers Scottsdale Taphouse and Brewery location will feature eight year-round beers, eight seasonals, three artisans and a new line of barrel-aged sours. Favorites will include: Domaine DuPage French country ale, Sidekick extra pale ale and limited edition sips like holiday Peppermint Bark Porter.
For more information, visit: http://www.twobrothersbrewing.com/scottsdale/
Two Brothers Taphouse and Brewery Location: 4321 N. Scottsdale Road, Scottsdale, AZ
About Two Brothers Brewing Company
Two Brothers Brewing Company was founded by Jim and Jason Ebel in late 1996. In the past 18 years, the brand has expanded to include a 40,000 square foot brewing facility in Warrenville, Two Brothers Tap House a 70,000 square-foot Two Brothers Roundhouse in Aurora, and their newest venture, Arizona Beer and Cider Company, a distribution business focused strictly on craft beverages. Two Brothers' award-winning products include year-round, seasonal and artisanal craft beers and coffee.