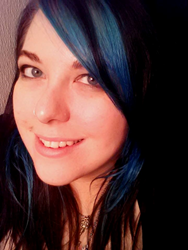 Whatever you do in your life, you must keep writing. You have serious talent.
Taylorsville, Utah (PRWEB) January 23, 2015
Salt Lake Community College student Heather Graham won the 5th Annual SLCC Chapbook Competition for her non-fiction manuscript, "Mix Tape."
"I had told myself for a long time that I could be a writer or that I wanted to be a writer, but entering and winning the chapbook contest helped remind me that I am a writer," Graham said. The Jordan High School graduate is currently pursuing associate degrees at SLCC in English and psychology, with intentions to earn bachelor degrees in both subjects.
University of Utah English assistant professor Jeff Metcalf judged the works of 15 writers. Metcalf told Graham he was "engaged and impressed" by her writing and the "edges and sharp turns" of her work.
"At moments when I thought the prose might run out of steam and flatten out, you managed to keep the narrative focused and drove each section of the text to a superb denouement," Metcalf wrote in a letter to Graham. "Whatever you do in your life, you must keep writing. You have serious talent."
Graham was awarded publication of her manuscript through the SLCC Publication Center along with a $100 honorarium. She will also be honored in April at a book launch and public reading.
Salt Lake Community College is an accredited, student-focused, urban college meeting the diverse needs of the Salt Lake community. Home to more than 60,000 students each year, the College is Utah's leading provider of workforce development programs. SLCC is also the largest supplier of transfer students to Utah's four-year institutions and a perennial Top 10 college nationally for total associate degrees awarded. The College is the sole provider of applied technology courses in the Salt Lake area, with multiple locations, an eCampus, and nearly 1,000 continuing education sites located throughout the Salt Lake Valley. Personal attention from an excellent faculty is paramount at the College, which maintains an average class size of 20.