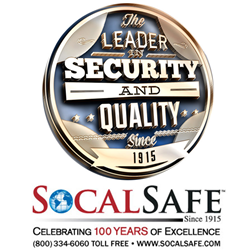 Montebello, California (PRWEB) January 13, 2015
Socal Safe, a leading provider of safes and security solutions for commercial and residential customers, announces a major milestone by providing 100 years of premium products and services for its clients. Since 1915, the company has strived to deliver 100% customer satisfaction by "protecting the priceless."
Customer testimonials (http://www.socalsafe.com/about/) attest to the professionalism that Socal Safe has demonstrated over the years:
"What's kept me coming back to your company for the past 15 years is your professionalism, knowledge and great customer service."— Walter Mullhall, Austaco.
Pat Johnson, Socal Safe's president, stated "Throughout our 100 years…we have created safes to meet the many different needs of all of our clients. Whether a customer has purchased one safe or 1000 safes from us, the security of the Socal Safe customer has always been our primary concern. We are grateful for 100 years of serving so many loyal customers, and we look forward to the next 100."
Socal Safe offers total security solutions in industries such as hospitality, restaurants, gaming, and more. Its products include high security safes, gun safes, safe deposit boxes, utility chests, and depository safes, to mention a few. Socal Safe is the industry leader in automated cash management for businesses large and small with MIMO cash and coin recycling. These are just a few examples of the company's extensive offerings – more detailed information is available on the company website.
Socal Safe's CEO, Eric Mueller, added "Our vision has always been bigger than the products we sell. Yes, we make safes, but our primary focus is protecting customers' assets, providing them with total security. And we do this while delivering total customer satisfaction."
About Socal Safe
For 100 years, Socal Safe has set the standard for strength, quality and customer care in the security industry. Since 1915 the company has strived to deliver premium customer service with 100% customer satisfaction. Its longevity is testimony to its commitment to protect customers' assets with their full line security products and services with such brands as International Fortress, Bridgeman, and MIMO. For more information, visit the company website at http://www.socalsafe.com or call Toll-Free at (800) 334-6060. Socal Safe is located at 510 West Washington Blvd., Montebello, California 90640.