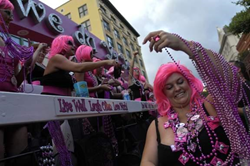 Mardi Gras in Pensacola continues to grow. More and more people are realizing it's safe, easy, and fun.
Pensacola, Florida (PRWEB) January 12, 2015
Passionate krewes, boats, beverages, and BBQ make up Mardi Gras in the Pensacola Bay area. Visitors looking for the best part— beads and moon pies—won't leave empty handed.
"The throws in Pensacola are better than the throws in any city. You see kids, but you can hardly see their faces because there are so many beads around their necks after the parades," says Danny Zimmern, President of Pensacola Mardi Gras, Inc. "Our Mardi Gras krewes are very passionate, put a lot of time into creating their throws, and try to out-do each other with custom-made beads and coins," adds Zimmern.
Pensacola Mardi Gras, Inc., organizes Pensacola's month-long Mardi Gras season and "throws" all of its energy into a handful of top-notch celebrations and parades. The settings are historic downtown and Pensacola's beautiful beaches, and all events are free and open to the public.
The carnival season is officially underway and includes a unique line-up of events. New to the Pensacola Mardi Gras this year is the "Krewe of Blues" BBQ cook-off and bead swap. Mardi Gras krewes will compete in cooking contests and carnival-type games to see who is crowned the mightiest of all, while music plays and beads fly. The event takes place Sunday, January 18, in Seville Square, beginning at noon.
The first parades of the season are a bit non-traditional. Pirates parade by boat in Perdido Key, on Saturday, February 7, beginning at 10:00 a.m. That's when members of the Pirates of Lost Treasure Mardi Gras Krewe leave Holiday Harbor and toss beads and throws at several stops along the Intracoastal Waterway. With boat horns blasting and music blaring, the line of boats passes under the Perdido Key Bridge to the Oyster Bar Marina, where hundreds of people line up on the dock. From there the flotilla heads west, passing Galvez Landing and eventually reaching the final destination, the Flora-Bama, for a blowout celebration and announcement of parade winners.
That same Saturday on Pensacola Beach, the kids and "kritters" parade is at 2:00 p.m. Children and their pets are encouraged to dress up, bring throws, and make mini-floats from strollers or wagons. This year's theme is: pirates! Registration for participants begins at 1:00 p.m. at Casino Beach. For more information, visit http://www.PensacolaBeachMardiGras.com.
Parades with traditional floats are packed into a single weekend. This year, it's the weekend of Valentine's Day-February 13, 14, and 15. On the 13th, visitors will see Pensacola's only nighttime illuminated parade, the Krewe of Lafitte Parade, featuring 12 floats, one live canon, and 250 gentlemen pirates. The parade rolls at 8:00 p.m. through historic downtown Pensacola.
The Grand Mardi Gras Parade is the biggest, most well known event of the Mardi Gras season, taking place this year on Valentine's Day. It begins at 2:00 p.m. and rolls through downtown Pensacola, following the same route as the Krewe of Lafitte. Parade-goers will see more than 250 entries, including floats with themes and costumed krewes that range from 60s go-go dancers to gangsters to Greek goddesses. Schedule time that same evening after the parade February 14, to enjoy fireworks over the Intracostal Waterway in Perdido Key, sponsored by the Perdido Key Chamber of Commerce.
Parades wrap up on Sunday, February 15, when the good times roll right to the beach. Walk a few steps to the main beach street, Via De Luna, to see the Krewe of Wrecks Parade that starts at 1:00 p.m.
The Mardi Gras season comes to an end on Fat Tuesday, February 17. That's when the final event in Pensacola-the Priscus Procession-takes place. Priscus is a nighttime pub-crawl through downtown with krewe kings and queens, krewe members, and anyone else (21 and over) who wants to participate and experience the unique Mardi Gras pageantry in Pensacola.
"Mardi Gras in Pensacola continues to grow. More and more people are realizing it's safe, easy, and fun. There's one parade a day, one route, easy parking, good crowds, and it's in a city with some of the world's best beaches," says Zimmern.
A complete listing of Mardi Gras events, times, and locations can be found by visiting pensacolamardigras.com and visitperdido.com. To view special event deals and discount accommodations available to visitors throughout the Mardi Gras season, log onto http://www.visitpensacola.com.
#
About Visit Pensacola
Visit Pensacola leads the effort of economic development through tourism in Escambia County. Comprised of over 150 member businesses, Visit Pensacola's mission is to position the Pensacola Bay Area as a premier year-round travel destination through tourism marketing, communications, meetings and conventions, reunions and group tour initiatives. For more information about Visit Pensacola, call 1-800-874-1234 (toll-free) or go to VisitPensacola.com
##