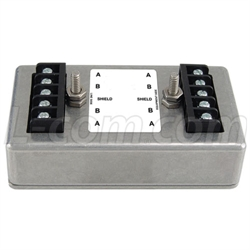 "These new DIN surge protectors leverage the success of the field proven HGLN-D2-12 protectors and were developed to address surges and transients found in industrial environments ," said Ken Burgner, Product Manager
North Andover, MA (PRWEB) January 15, 2015
L-com Global Connectivity, a designer and manufacturer of wired and wireless connectivity products, announced today that they have released a new DIN mountable 3-stage lightning protector to protect RS232 and industrial control lines.
The HGLND-D2-12 is a high performance 3-stage lightning protector that provides superior protection of differential or balanced digital or analog lines from transients and surges. The first stage is comprised of a differential gas discharge tube. Stage two consists of a pair of current limiting series resistors and the final stage includes a low capacitance diode array.
The HGLND-D2-12 is designed to protect two pairs of differential data or analog signal/control lines.
"These new DIN surge protectors leverage the success of the field proven HGLN-D2-12 protectors and were developed to address surges and transients found in industrial environments where critical equipment must be protected. By utilizing a three-stage system, these surge protectors are able to handle surges that lower cost single-stage protectors cannot," said Ken Burgner, Product Manager.
The HGLND-D2-12 can be mounted to a DIN 3 rail using the DIN mounting clip located on the rear of the unit. For more complete surge protection of data lines, the use of two units is recommended, one at each end of the line.
For more information about this release, please contact:
Peter McNeil, Marketing Manager
978-682-6936 x1174, mailto:pmcneil(at)l-com(dot)com
About L-com Global Connectivity
L-com Global Connectivity, a global leader in the manufacture of wired and wireless connectivity products, offers a wide range of solutions and unrivaled customer service for the electronics and data communications industries. The company's product portfolio includes cable assemblies, connectors, adapters, computer networking components, and custom products, as well as their HyperLink® brand of wireless products which include antennas, RF amplifiers, coaxial lightning and surge protectors, and NEMA rated enclosures. L-com's HyperLink® wireless products are designed for WiFi, WiMAX, SCADA, 802.11a/b/g/n/ac, RFID and Bluetooth applications. In addition to HyperLink® , L-com's other brands include MilesTek®, specialists in Military/Aeronautics connectivity solutions and Aiconics®, a leading manufacturer of electrical connector products. Trusted for over 30 years, L-com, which is headquartered in North Andover, MA, is ISO 9001: 2008 certified and many of its products are UL® recognized. For more information, please visit: http://www.L-com.com/