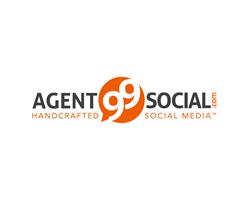 Daily Social Media by Realtors for Realtors.
(PRWEB) January 15, 2015
Agent 99 Social is bringing real estate agents an easy and inexpensive way to stay in constant contact with social media followers on a daily basis. Instead of having to take time each day creating relevant posts, updating each individual social media account, sorting and responding to comments, deleting spam and more, real estate agents can allow Agent 99 Social to do it all for them.
Agent 99 Social has three packages to choose from, and each of the packages is available in a monthly or a yearly subscription. The company offers a discount for those looking to buy an entire year's subscription at a time, with one full month free. Each package is tailored to the residential real estate community, and posts relevant to that community will also be shared, giving agents a tighter connection to those located closest to them.
For a real estate agent, it's critical to remain in constant contact with past and potential clients. An agent must always be ready, willing, and able to respond to questions or comments, or to change plans to accommodate the needs of a potential client. With Agent 99 Social real estate agents social media will be hand crafted to help people to get to know them, and to allow anyone to contact the agent quickly, offering prompt specific replies, telling people about new properties, and agents may still post and respond from anywhere.
The difficult part of social media marketing is how time consuming it can be. Real estate agents already have a jam-packed schedule. Instead of staying up late or getting up early, putting off a meeting with a potential client, or, worse yet, not doing anything at all, why not let the real estate professionals at Agent 99 Social manage those social media accounts? Agents can decide which social media platforms are most important to his or her real estate business, and find a plan that matches their business needs. With one simple monthly fee, agents get daily posts, individual responses to followers, spam monitoring, and even unique blog posts for LinkedIn or a blog.
Take back the time that social media marketing requires, and let someone else do all of that work instead. It's still possible to connect and bond with followers, but without the daily requirement of sitting in front of a computer, tablet, or phone. For one simple $99.00 monthly fee, agents can get their lives back, without losing the connections that businesses need to grow.
About Agent 99 Social:
Agent 99 Social was started up by a successful real estate broker / web entrepreneur, to help real estate agents connect with their social media followers by offering relevant, responsive posts and comments back to follower suggestions on their social media accounts. Instead of taking away more time, Agent 99 Social offers real estate agents a way to get more time back out of their already busy schedules, without losing any of the connections they have worked so hard to obtain. If you want to know more about Agent 99 Social, visit the website at http://www.agent99social.com today.