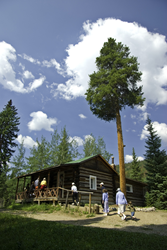 While there are many, many reasons to love RMNP, it's hard to pack 100 years worth of celebrating into just one day. As a result, Rocky Mountain National Park will have a year's worth of special events and celebratory activities
GRAND COUNTY, Colo. (PRWEB) January 14, 2015
Rocky Mountain National Park (RMNP) is celebrating its 100th birthday on the anniversary of its inauguration date January 26, 1915. Though people have been visiting the area that the park encompasses for more than 10,000 years (there have been tools found from the Paleo-Indians there), the formal dedication took place on Sept. 4, 1915. Since then, Rocky Mountain National Park has been imparting peace, awe and adventure to its thousands of yearly visitors.
While there are many, many reasons to love RMNP, it's hard to pack 100 years worth of celebrating into just one day. As a result, Rocky Mountain National Park will have a year's worth of special events and celebratory activities. To narrow it down even more, here are the top 10 things to love about RMNP and Grand County Colorado.

Life is a Highway: Trail Ridge Road Scenic Byway (US Highway 34) is the highest continuously paved road in North America. Take a drive from Grand Lake and enjoy scenic vistas as well as sightings of some of the park's wilder residents.
Climb Every Mountain: Rock climbing and mountaineering have become popular activities in recent years. Longs Peak, one of Colorado's 14ers at 14,259 ft above sea level, is a popular challenge. Or, summit 12,007-foot Mount Craig for the best view of Grand Lake.
Take a Walk: The Continental Divide Trail is a 3,100-mile trail that runs from Canada to Mexico and weaves its way through the national park. Tackle just a portion of it by strolling the 30-mile segment that runs through the park.
Animal: RMNP is full of wildlife, but there's nothing like being among the lucky few to see male bighorn sheep butting heads and locking horns during the fall rut season or listening to males bugle it out, particularly in the Kawuneeche Valley.
A Sky Full of Stars: There's nothing like seeing the stars in the wilderness of the park; see even more through a telescope from Harbison Meadow with a ranger-led stargazing tour.
Cowboy Up: There are many ways to get your cowboy on in RMNP, from joining an outfitter on a horseback riding tour through the park's western valleys to visiting a dude ranch in the shadow of the park's peaks on the west side in Grand County.
Waterfalls: Powerful and awe-inspiring, waterfalls are at the pinnacle of vacation photo posing. Visit the gushing waters of Adams Falls during the height of runoff in May or see the rushing rapids of Cascade Falls, located northeast of Summerland Park.
Bicycle Race: It doesn't have to be a race—there are plenty of ways to explore RMNP by two wheels. Explore the mountain bikes trails, particularly near Winter Park and Fraser or embark on an epic ride from Grand Lake to Estes Park and back again over Trail Ridge Road.
Gone Fishing: Cast your fly road for an unbeatable experience on Lake Granby. Whether it's fly- fishing in the summer or ice fishing in the winter, you'll be sure to have a tall tale to tell.
Soak It Up: All that adventuring can be taxing on poor tired, muscles. Take a side trip to Hot Sulphur Springs for a dip in the area's famous thermal springs.
Check out Grand County's Facebook page at http://www.facebook.com/grandcountycolorado and follow @grandcountycom on Twitter or http://www.pinterest.com/grandcountyco/ on Pinterest.
About Grand County, Colo. (http://www.visitgrandcounty.com)
Located 67 miles west of Denver, Grand County is home to wide-open spaces, breathtaking mountain scenery and authentic old-west towns. Outdoor recreational activities include golf, boating, fishing, biking, hiking, fishing, hunting, horseback riding, skiing, cross country skiing, snowmobiling, ice fishing, sleigh rides and tubing. The area features more than 600 miles of mapped and marked trails, one national park, two national forests, two wilderness areas, two national scenic byways, two major ski resorts, five world-class dude ranches and four mountain golf courses. Grand County's extensive water network includes Colorado's largest natural lake, 1,000 miles of streams, 1,000 acres of high-mountain lakes and 11,000 acres of reservoirs.