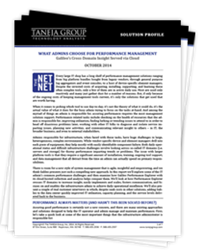 "Shops that spend man-years on enterprise management tools would do well to add Galileo as a highly capable front line of defense to get things done today."
Malvern, PA (PRWEB) January 13, 2015
Galileo Performance Explorer™—a cloud-based performance monitoring solution developed by the ATS Group for server and storage system analysis—today announced the results of a validation report published by the Taneja Group. The report asserts that Galileo Performance Explorer provides fast moving IT staffs with a superior performance tool that get things done, proactively, without spending time integrating and managing complex and impractical management software.
"Performance is everything and today's management solutions need to help IT operate faster and better – and not waste valuable admin time supporting unwieldy enterprise platforms approaches. Galileo's cloud-based approach is easy to deploy, rich in value, and enables fast moving and growing IT organizations to run leaner and meaner," said Mike Matchett, Sr. Analyst at the Taneja Group. "Shops that spend man-years on enterprise management tools would do well to add Galileo as a highly capable front line of defense to get things done today."
The recently published Taneja Group report titled, "What Admins Choose for Performance Management: Galileo's Cross Domain Insight Served via Cloud," validates that Galileo Performance Explorer offers significant cost and time savings, with these top 5 advantages over traditional solutions:
1. Faster time to management value, faster time to implement/expand coverage across wide scales of systems and storage
2. More focus for System Admins on work processes, not on maintaining tools
3. Indefinite detailed history retention in the Cloud without onsite data management effort
4. Deep cross-domain analysis and insight – deep storage and server utilization and configuration metrics automatically collected and analyzed together
5. Enhanced stakeholder communication – better relations with other IT domains, IT management, and even business clients (using custom web dashboards, chart widgets, and distributed/mobile cloud access)
"We built Galileo based on our collective years of experience managing data centers and understanding the challenges facing any monitoring solution," says Tim Conley, co-creator of Galileo Performance Explorer at the ATS Group. "Having independent validation underscores what our customers have been telling us; Galileo provides fast time to value based on real-world systems and storage monitoring needs."
Excerpts of Customer Interviews
Why a big Financial firm chose Galileo: "…traditional tools became ineffective for day-to-day management of operations (note – we aren't talking about reactive failure alerting, but the harder task of making sure things are running ok and not going off the rails. In other words, being proactive.") –VP of IT Platform Engineering, responsible for all the enterprise storage and Unix server platforms amounting to over 13PB and 4000 servers
Why a respected Healthcare organization chose Galileo: "…this is part of a modern approach to providing storage as a service". Using SaaS is the right way to deliver solutions – "I don't have the resources for the care and feeding of management". In fact, he finds it curious that there aren't big vendors transitioning their legacy solutions to the obviously beneficial SaaS approach. –Director of Enterprise Storage, with only 4 admins and responsible for over 35PB of mixed storage ranging from GPFS (for HPC) to SVC (for virtualization) to mid- and enterprise-grade arrays
A free copy of the report is available here.
All Galileo capabilities are accessible for evaluation via a free 30-Day Trial program or by requesting a personal demonstration.
About Taneja Group
Taneja Group is an analyst and consulting firm that is focused on delivering solid, in-depth and hype-free analysis of the storage industry. The firm also covers what it calls storage-centric server technologies such as clustering, grid computing, server virtualization and other technologies that are critical to the next generation data center. The group provides services to technology vendors, venture capitalists and investment professionals. It is based on the fundamental principle that you should only advise clients if you have years of operational experience gained in the industry or as an end user. The company is located in Hopkinton, Massachusetts.
About Galileo Performance Explorer
Designed by data center experts from real-world of implementations, Galileo Performance Explorer improves IT utilization and capacity planning with proactive, convenient cloud-based performance monitoring. Galileo delivers hundreds of analytical perspectives on server and storage hardware and virtualization environments for key decision makers that go far beyond reactive alarms. Built on an innovative SaaS architecture, Galileo installs in minutes, without onsite data or expensive hardware requirements. Automatic collection of real-time data, with quick, easy, graphical reporting via an intuitive web interface, offers access to custom dashboards with full drilldown into data details, anywhere, anytime. It supports IBM® AIX®, Linux®, Windows®, Solaris®, GPFS™ and IBM® SVC, Storwize® V7000 and V7000 Unified, XIV®, DS3/4/5K and SONAS storage systems.