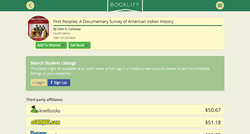 "Booklify.com's inherent value is founded on our alternative platform to the traditional textbook market"
East Lansing, Michigan (PRWEB) January 14, 2015
Fast growing Michigan based Start-up company Booklify.com has expanded from its origins at Michigan State University to six Michigan campuses since its founding in 2012, providing services to over 100,000 college students. With over 4,000 new users gained during the fall of 2014, Booklify.com has implemented a variety of new and innovative features to further empower its users, saving them thousands of dollars annually.
Booklify.com employs a unique model to purchasing textbooks that is unmatched in the industry. With the ability for users to compare textbook prices from both student sellers and trusted online vendors, users are guaranteed to find the cheapest prices for their textbooks. Users can purchase textbooks from nationally recognized vendors or meet up in person and purchase textbooks from their peers. "When Booklify.com was initially created, one of the fundamental features was to create an 'online marketplace' that operated as a social networking platform to connect users with similar interests," says Founder, Darin Gross. That means that students can link their Booklify account through Facebook and meet up with fellow students taking the same course as them; opening doors to many more opportunities such as the ability to purchase class specific notes or even potential tutor prospects.
"Booklify.com's inherent value is founded on our alternative platform to the traditional textbook market," said Gross. "These campus bookstores pay students pennies on the dollar for their textbooks, extract the majority of the books' value for themselves, and nobody bats an eye." Booklify.com directly connects student buyers and sellers with each other. The result is that would-be profits for the bookstore are redistributed between the buyer and seller, netting both users a better deal. Other innovative features include allowing users to name their own price, bundle their books with relevant notes to increase the listing's value, and the ability to sell any textbook at any time, regardless of the bookstore's schedule.
For more information about Booklify.com's unique selling and buying features, please go to Booklify.com or contact Founder, Darin Gross at darin(at)booklify(dot)com.