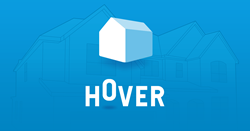 SAN FRANCISCO and CALGARY, ALBERTA (PRWEB) January 13, 2015
Renoworks Software, Inc. and HOVER, Inc., announced a new partnership to co-market a comprehensive offering targeting building products manufacturers and their customers. With the new alliance, building products manufacturers can now offer Renoworks' product rendering software and HOVER's 3D solutions to homeowners, contractors and dealers.
From smartphone images HOVER creates a scaled 3D model of any property, providing relevant measurements for home improvement estimating. By leveraging Renoworks' building products image library, homeowners and contractors can view selected products on HOVER 3D models delivered on mobile or in the browser.
"We are excited to be working with Renoworks in the home improvement market," said Kevin Reilley, HOVER CEO. "Renoworks is the leading company in visualization solutions, and their product library is second to none. We look forward to using Renoworks' content to provide stunning product renderings on our scaled 3D property models."
"HOVER provides building products manufacturers with a comprehensive solution that nicely complements Renoworks software," said Doug Vickerson, Renoworks CEO. "Now manufacturers can offer a comprehensive suite of "do-it-yourself" and "do-it-for-you" rendering solutions to their customers."
###
About HOVER
HOVER is located in San Francisco, CA, and develops novel computer vision solutions for homeowners and home improvement professionals. For more information, visit http://www.hover.to.
About Renoworks
Renoworks Software Inc. develops and markets cutting edge visualization software and business growth tools for the remodeling and new home construction industries. Renoworks software and web solutions use digital imaging to showcase interior and exterior building products on a picture of a customer's room, home, or blueprint. The software allows users to envision various 'before and after' design options using a database of actual manufacturer's products. For more information, visit http://www.renoworks.com, or call 403-296-3880.