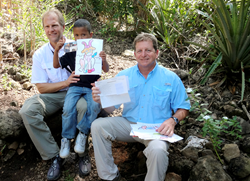 [Sponsoring] is a lot more rewarding than trying to make a profit. You go to work each day knowing you are helping someone else. That work never gets old.
COLORADO SPRINGS, Colo., and ST. LOUIS, Mo. (PRWEB) January 14, 2015
St. Louis native Stan McCurdy hopes his business model will challenge others to match up their business interests with their philanthropic interests. McCurdy and three business partners lead St. Louis' Aventura Property Management Group. For each apartment unit rented, McCurdy has pledged to sponsor a child living in poverty through Compassion International, one of the world's largest and fastest growing Christian child development organizations.
To date, Aventura's three apartment complexes total nearly 400 apartment units. In all, McCurdy and Aventura sponsor 110 children worldwide and fund three Child Survival Program medical clinics through Compassion. The company's donations to Compassion exceed $125,000 a year. McCurdy hopes Aventura will continue to development one property a year and eventually sponsor 350 children in need.
McCurdy retired from real estate development in 2010 with dreams of becoming a missionary. But while attending the Willow Creek Leadership Summit in Chicago that same year, he was inspired by the business model of speaker Blake Mycoskie, founder of Toms Shoes. McCurdy sought to replicate Mycoskie's method in his own way, so he established Aventura and is using his expertise to help children living in poverty through Compassion.
"It's a lot more rewarding than trying to make a profit," McCurdy said. "You go to work each day knowing you are helping someone else. That work never gets old."
In addition, Aventura's most recent construction on a Hilton Home to Suites sits adjacent from two St. Louis hospitals, including Shriners Hospitals for Children. McCurdy hopes to provide complimentary hotel stays to children and their families who must travel frequently to and from the hospital for treatment from throughout region.
McCurdy is available for interviews and can be reached at 314-363-9658 or smccurdy(at)mlpllc(dot)com
Compassion International is the world's leading authority in holistic child development through sponsorship. Compassion revolutionized the fight against global poverty by working exclusively with the Church to develop children out of poverty to become responsible, fulfilled Christian adults. It is the only child sponsorship program to be validated through independent, empirical research. Compassion partners with more than 6,500 Christian churches in 26 countries to release over 1.6 million babies, children and students from poverty in Jesus' name. Compassion has been awarded the highest rating for financial stewardship and transparency for 13 consecutive years by Charity Navigator, America's largest charity evaluator. For more information on the ministry, visit compassion.com or follow them on Twitter at @compassion.