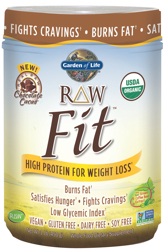 Garden of Life has just released two new flavors, Chocolate and Vanilla, in their popular weight loss protein powder, Raw Fit.
(PRWEB) January 13, 2015
Garden of Life's Raw Fit is a USDA Certified Organic, Raw, plant-based vegan high-protein powder that is an easy way to increase your protein intake. It has a mild, slightly sweet flavor that mixes great with your favorite food or beverage and contains Raw, organic and clinically studied ingredients to help you burn fat, maintain healthy blood sugar, boost your energy and lose weight. Until now, Raw Fit has only been available in plain and coffee flavor.
According to Gail Bowman, owner of the online health food store, Healthy Vitamins, "Raw Fit just came out in 2 new flavors: Chocolate and Vanilla! Raw Fit is a very popular protein powder that is designed to encourage weight loss. Our customers love it, but until now, the flavors have been very limited. I am very excited to tell my customers that it is finally available in two new flavors!"
Supports healthy blood sugar levels and burns fat naturally with Svetol Green Coffee Bean Extract, raw Food Created Chromium, organic cinnamon, and organic sprouted grains.
Helps regulate your cortisol levels and manage stress related cravings with raw Organic Ashwagandha.
Helps build lean muscle mass, and helps repair it after work-outs while helping sustain muscle mass on a sensible meal plan with 28g of Raw certified organic plant protein; a complete vegan protein with 13 organic sprouts.
Is naturally filling and satisfies hunger with raw organic soluble and insoluble fiber from certified organic grains, seeds, legumes and fruits.
Promotes healthy and comfortable digestion and elimination with live probiotics and enzymes.
Gail Bowman has been the owner of Healthy Vitamins for 12 years. Healthy Vitamins specializes in Whole Food Nutritional Supplements in an easy-to-use online venue.