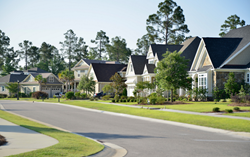 Top Places to Live in North Carolina
Wilmington, North Carolina (PRWEB) January 13, 2015
According to figures released by the U.S. Census Bureau, Brunswick County was ranked the fastest growing county in the state of North Carolina for the year 2013, and ranked 47th fastest growing county in the entire nation. With the huge growth and expansion in one of the finest North Carolina beach cities, the Town of Leland has seen a massive influx of new residents, as has Brunswick Forest, a best master planned community located in Leland, NC.
Since 2007, Brunswick Forest has welcomed over 1,300 families, with more than 300 of those in 2014 alone. "The Census figures are not surprising to us," says Brunswick Forest Director of Sales Jerry Helms. "This is a desirable place to live, and more and more, people are starting to realize that and move to the area. We have it all here: beautiful Brunswick Forest homes for sale, nice weather and plenty of amenities and things to do. Since inception, Brunswick Forest's developers have patronized Leland spending marketing dollars not only towards the growth of the community, but the surrounding area as well."
A significant portion of the area's new residents moved here from other parts of the country like the Northeast and the Midwest. Brunswick County and Leland offer relocates a respite from cold winters, lower tax rates and relief from metropolitan area traffic concerns. "The area's coastal climate is appealing to folks looking to escape the long winters up north," says Helms. "Here we have beautiful, mild weather year-round, and we have designed our homes and community so that our residents can take full advantage of the weather."
The increase in residents has prompted significant growth in the county's infrastructure, commercial properties and an expansion of county parks and recreation offerings. The North Carolina Department of Transportation recently began several major road construction projects, all of which are set to be completed in the next couple of years. Currently, work is being done on the causeway along U.S. Highway 17/74/76 between Leland and Wilmington that will widen the highway from four to six lanes. Construction was recently finished on the southern section of I-140 which connects U.S. 74-76 with U.S. Highway 17 just a few miles south of Brunswick Forest. This new section will ultimately connect with the I-140 bypass which will link U.S. 74-76 with U.S. 421 and allow all motorists coming from I-40 headed south to Myrtle Beach to completely bypass Wilmington and Leland. For local residents, the bypass will provide another option for crossing the Cape Fear River connecting one of the North Carolina beach cities. "We are excited about all of the road improvements that are happening in the area ," says Helms. "Ultimately, the new causeway and bypass will make getting around that much easier, and will only help establish this area as even more desirable to new residents."
Along with residential growth, Leland North Carolina has seen tremendous expansion in commercial businesses. Brunswick Forest's 500,000 square feet of retail space in the 160-acre commercial town center, The Villages at Brunswick Forest, has grown exponentially in just the past few years welcoming restaurants, professional offices, retail businesses and medical establishments. The Villages defies national trends by being 100% leased, meaning there are no empty store fronts within the entire center near Brunswick Forest homes for sale. "The fact that our commercial center is full is a big deal," says Helms. "Our developer has taken care to handpick the tenants at The Villages to make sure we have the right kind of businesses that are well-suited for our residents. This is just another example of why Brunswick Forest is a good steward of the community. Our vision and commitment not only benefits our residents, but is good for the Greater Leland area as well."
Brunswick County's parks have expanded in recent years with significant changes to existing parks and the addition of a new 911-acre nature park. "Another reason why this area is so appealing is you have a wealth of amenities right at your doorstep," says Helms. "Brunswick Forest offers residents a wide range of fantastic amenities, but the area also has its own great resources like all of the parks and green spaces that are located just a short distance away." Currently, the finishing touches are being completed on Winnabow's Town Creek District Park, just a few miles from Brunswick Forest, one of Wilmington's best master planned communities. The newly-revamped park includes paved walking trails, nature trails, baseball fields, tennis and basketball courts, a dog park, playgrounds, soccer fields, batting cages and bocce ball courts. The expanded park also connects to Town Creek Elementary School via a paved pathway.
"Despite all of the growth the area has undergone in recent years, Leland still retains its small-town charm," says Helms. "Longtime residents will tell you, it's an exciting time to live in Brunswick County."
Folks exploring the best places to live in North Carolina would be wise to make their way to Brunswick Forest to explore model homes and the lifestyle the neighborhood has to offer. Cypress Pointe is newest neighborhood within the 4,500 acre community.
Take a peek at Brunswick Forest homes for sale
Call Brunswick Forest direct at 888.371.2434 to schedule a tour.
About Real Estate Scorecard:
Real Estate Scorecard writes unbiased real estate reviews providing in-depth information about popular gated communities in Florida, Georgia, North Carolina, South Carolina and Tennessee, all in an effort to help people discover where to retire in the Southeast.
Website: http://realestatescorecard.com