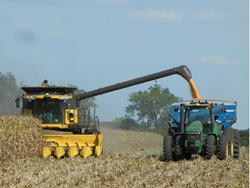 Cambridge, Massachusetts (PRWEB) January 13, 2015
Jaybridge Robotics has announced the successful deployment of several major new capabilities for Kinze® Manufacturing's autonomous row-crop solution, including the ability to run multiple combines and autonomous carts in the field simultaneously. Jaybridge has worked closely with Kinze over the past several years to develop the system—the world's first, large-scale, truly autonomous row-crop harvesting solution.
As part of a multi-year launch plan, a number of farmers successfully used the Kinze system during the 2014 fall harvest. When the combine operator is ready to offload, the system automatically calls for the most appropriate cart to pull alongside and receive harvested product such as corn or soybeans. The autonomous grain carts and farmer-operated combines communicate in real-time in the field so that the autonomous grain carts can take safe and efficient paths to the combines.
Kinze's user interface, developed by Jaybridge, provides an overhead view of the field being harvested, enabling the combine operator to quickly see the location of all other combines and autonomous grain carts.
New in 2014, side radar sensors give the autonomous system a full field of vision, enabling it to sense obstacles on either side and drive safely down narrow corridors. The wireless communication network and path planning software also were updated in 2014 for more efficient performance.
"By listening to the farmers and testing the autonomous system on their farms, we get a firsthand look into the features and benefits they find valuable," said Susanne Veatch, Kinze's vice president and chief marketing officer. "Our goal is to help increase productivity by allowing the farmer to accomplish multiple tasks at once and eliminate the need for skilled labor during harvest time."
"The enhancements deployed last fall deliver improved safety, greater ease of use, and higher efficiency," said Jeremy Brown, CEO of Jaybridge Robotics. "We look forward to working closely with Kinze on further development of the system so that it delivers the greatest possible boost to farmer productivity at commercial launch."
Kinze's focus for 2015 will be additional testing of the autonomous harvest solution under an array of different conditions and within several different environments.
ABOUT KINZE MANUFACTURING
Founded more than 50 years ago on the premise of innovation, Kinze Manufacturing, Inc., markets its planters and grain carts globally and is known for a number of industry "firsts." Kinze operates with core values of integrity, customer focus, excellence, innovation and mutual respect. Kinze Manufacturing is the recognized technology leader and innovator of planters for row-crop production and grain auger carts. Kinze employees spend their nights and weekends farming, putting them in a unique position to be both manufacturers and customers of the planters and grain carts they build. For more information, visit the Kinze Manufacturing website at http://www.kinze.com.
ABOUT JAYBRIDGE ROBOTICS
Jaybridge Robotics is an emerging leader in autonomous vehicle design and development. The company provides complete, turnkey solutions for a range of applications in the agricultural, aggregates and mining industries. The Jaybridge engineering team has expertise in vehicle motion modeling, autonomous navigation, autonomous perception, vehicle control, precision visualization, and intuitive human-robot user interfaces. Whenever possible, the company uses commercial, off-the-shelf components in conjunction with its software. Jaybridge's rigorous processes in design, engineering, and testing ensure high-quality, well-tested and robust solutions that stand up to punishing environments. For more information, please visit http://www.jaybridge.com.