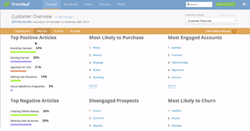 "Content is the most critical part of customer engagement and customer success." said Aaron Fulkerson, CEO of MindTouch. "MindTouch provides the content that drives customer success while Frontleaf analyzes the user engagement of the content to predict up
San Diego, CA (PRWEB) January 13, 2015
MindTouch, which helps companies drive user adoption and customer success with multi-channel self-service support, today announced that it has partnered with Frontleaf, a customer success solution that generates predictive insights. This partnership will enable MindTouch and Frontleaf customers to identify how article consumption patterns can serve as powerful signals of buying intentions and customer retention risk.
"We are excited to partner with MindTouch. We love the product because the way MindTouch structures customer support and product content allows Frontleaf to predict which customers are likely to renew or purchase add-ons," states Tom Krackeler, CEO of Frontleaf. "MindTouch is the future of self-service customer support."
MindTouch and Frontleaf customers find this technology combination valuable because:
Customer support and product content is a medium for predicting renewal and sales outcomes. Online self-service is the top demanded support channel. 71% of users state that they prefer self-service support.
With MindTouch, companies are delivering effective self-service and empowering support agents across all channels. As users or agents interact with content in MindTouch, Frontleaf matches and analyzes the users with customer record information in CRM, like Salesforce.com to predict sales and renewal.
"Content is the most critical part of customer engagement and customer success," said Aaron Fulkerson, CEO of MindTouch. "MindTouch provides the content that drives customer success while Frontleaf analyzes the user engagement of the content to predict up-sell and churn. It's a killer combination."
About Frontleaf:
Frontleaf provides customer success software that helps businesses drive customer adoption, engagement, and retention. Frontleaf captures raw customer data from product usage and other activities, and transforms it into true customer intelligence so businesses can keep and grow their customers. Find out more about Fronteaf at: http://frontleaf.com
About MindTouch:
MindTouch, Inc is a provider of cloud based customer success software. MindTouch is transforming how all businesses drive customer success by empowering them to capture and serve knowledge to their customers in new ways and by creating insight from customers' behavior. MindTouch creates shorter sales cycles, increases organic site traffic, and turns new users into experts and brand advocates.
MindTouch is used by millions of people every day. Industry leaders like Intuit, Remington, Hewlett-Packard, Verizon, SAP, ADP, MakerBot and Docker rely on MindTouch to support their customers' success. Read more about MindTouch here: http://mindtouch.com