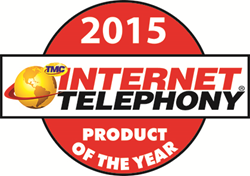 Cambridge, MA (PRWEB) January 13, 2015
ThinkingPhones, a Gartner Magic Quadrant for Unified Communications as a Service 'Leader,' announced today that global integrated media company TMC has named its UCaaS solution as a recipient of the 2015 INTERNET TELEPHONY Product of the Year Award.
Cloud unified communications and the bring-your-own-device movement represent disruptive forces as corporate enterprises seek to replace premises-based systems and align disparate technology applications to enhance collaboration among increasingly distributed and mobile workforces.
ThinkingPhones is uniquely positioned to help enterprises capitalize on these game-changing dynamics by offering mobile-ready, analytics-driven single platform collaboration capabilities spanning voice, video, presence, messaging, conferencing, and contact center.
"We are incredibly honored to receive this award from TMC in recognition of our mission to deliver cloud communications solutions that enhance enterprise collaboration, streamline business processes, and lower costs," said Steve Kokinos, ThinkingPhones' president and CEO. "TMC has recognized the unique value we bring to enterprises seeking to leverage our UC platform to solve the challenges inherent in the increasingly mobile and social ways people work."
"It gives me great pleasure to recognize ThinkingPhones with a 2015 Product of the Year Award for its commitment to excellence and innovation," said Rich Tehrani, CEO, TMC. "In the opinion of our distinguished judges, ThinkingPhones has proven to be among the best communications and technology solutions available on the market. I look forward to continued innovation from ThinkingPhones."
The winners of the 2015 INTERNET TELEPHONY Product of the Year are featured in the 2015 January/February issue of INTERNET TELEPHONY magazine and online at http://www.itmag.com.
About ThinkingPhones
ThinkingPhones cloud services are deployed by hundreds of enterprises at thousands of corporate locations around the globe. The company's mission is to make businesses' systems work for them while providing apps that both management and staff love. The ThinkingPhones solution seamlessly unifies business voice, text, and conferencing services on a single, award-winning cloud platform, connects them to other cloud applications, and delivers intelligent, mobile-ready apps. For more information, please visit http://www.thinkingphones.com.
About INTERNET TELEPHONY magazine
INTERNET TELEPHONY has been the IP Communications Authority since 1998™. Beginning with the first issue, INTERNET TELEPHONY magazine has been providing unbiased views of the complicated converged communications space. For more information, please visit http://www.itmag.com.
About TMC
TMC is a global, integrated media company that supports clients' goals by building communities in print, online, and face to face. TMC publishes multiple magazines including Cloud Computing, M2M Evolution, Customer, and Internet Telephony. TMCnet is the leading source of news and articles for the communications and technology industries, and is read by as many as 1.5 million unique visitors monthly. TMC produces a variety of trade events, including ITEXPO, the world's leading business technology event, as well as industry events: Asterisk World; AstriCon; ChannelVision (CVx) Expo; Cloud4SMB Expo; Customer Experience (CX) Hot Trends Symposium; DevCon5 - HTML5 & Mobile App Developer Conference; LatinComm Conference and Expo; M2M Evolution Conference & Expo; Mobile Payment Conference; Software Telco Congress; Super Wi-Fi Summit - The Global Spectrum Sharing and TV White Space Event; SIP Trunking, Unified Communications & WebRTC Seminars; Wearable Tech Conference & Expo III; Fitness and Sports Wearable Technology (FAST) Expo II, WebRTC Conference & Expo IV; and more. For more information about TMC, please visit http://www.tmcnet.com.