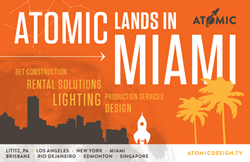 "We are over-the-moon excited about putting down roots in Florida," says Rob Barber, VP of ATOMIC Rental Solutions
Lititz, PA (PRWEB) January 13, 2015
ATOMIC, a creative company providing set construction, rental solutions, lighting, design and production services for the live event industry, announces a new Rental Solutions warehouse in Miami, Florida. The Rental Solutions team is stoked to add a convenient location in Florida to better serve the Southeast region of the nation.
With clients across the world including The Ellen DeGeneres Show, Walt Disney Studios, Facebook, Microsoft, and T-Mobile, ATOMIC continues to expand its capabilities and its distribution area to provide exceptional service for all clients. The Rental Solutions department experienced an incredible year in 2014 with the newly patented SuperLever modular product line and the game-changing, ground-supported SuperWall system launch. ATOMIC knew it was time to set up shop in Florida to expand the Rental Solutions capability, so they are slapping on the sunscreen and heading to the Sunshine State.
"We are over-the-moon excited about putting down roots in Florida. We've felt the demand and opportunity for growth in the South and 2015 will be the year of establishing a stronger presence there," says Rob Barber, Vice President of ATOMIC Rental Solutions.
Contact the Rental Solutions team today by calling 717.626.4408 or visiting our website. Account Managers are ready to make each client's event extra-spectacular.
About ATOMIC:
Headquartered in Lititz, PA, ATOMIC is a creative company in the business of live events for entertainment and brand communication. ATOMIC has a diverse collection of creatives. Our team of producers, designers, engineers, moviemakers, artists, storytellers, technicians and craftsmen provide set construction, rental solutions, lighting, design and production services to clients across the globe. Established in 1994, ATOMIC is rooted in the rock & roll industry, joining Clair Global and Tait Towers in Lititz, PA–the "backstage to the concert world"–to create the trifecta known as Rock Lititz. Now with a presence in Los Angeles, New York, Miami, Brisbane, Rio de Janeiro, Edmonton and Singapore, ATOMIC serves clients from television networks to global brands to designers and artists. ATOMIC drives each project forward. No Surprises. Unique Results. For more information on ATOMIC please visit our website.