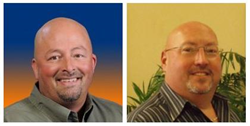 Rob Johnson and Brian Buck have a proven track record of promoting technology solutions for vacation rental managers.
Germantown, MD (PRWEB) January 13, 2015
TruPlace, Inc., the largest provider of interactive floor plans in the vacation rental industry, today announced it is launching its national sales rollout strategy with the addition of industry veterans Brian Buck and Rob Johnson to spearhead coast-to-coast sales initiatives in the fast growing vacation rental market.
Buck and Johnson have worked together in the vacation rental industry for more than 26 years, successfully bringing technology products to market, including NAVIS Narrowcast and Escapia Software. In their most recent enterprise, Buck and Johnson joined startup Glad to Have You™ and rapidly established a significant market share for the product through their sales leadership. Glad to Have You™ sold to HomeAway, Inc. in 2014.
"Rob Johnson and Brian Buck have a proven track record of promoting technology solutions for vacation rental managers," said President and CEO Bob Cusack. "Their combined expertise will be beneficial for us as we expand to move TruPlace forward and increase the use of floor plan technology in the vacation rental industry."
"We love the fact that we can represent another technology platform in TruPlace that helps vacation rental managers increase conversions, improve guest satisfaction and boost revenues," said Johnson. "For us, nothing is more exciting than that."
Recently, TruPlace announced a partnership with TripAdvisor's FlipKey to offer interactive floor plans for vacation listings and completed an advanced integration with Barefoot Technologies. In addition, TruPlace presented the technology to HomeAway customers at their software user conference in Nashville and to property managers at the Vacation Rental Managers Association Annual Conference in San Diego, and will be traveling to Dublin for the VRMA European Conference in February.
Founded in 2003, TruPlace's (formerly Mouse on House) floor plan technology is being utilized for over 35,000 properties in North America. With the combination of professional photography and detailed floor plans in one intuitive, mobile-friendly technology platform, vacation rental managers who use TruPlace interactive floor plans instantly provide guests with a visual perspective of the vacation home. The floor plan technology improves listing quality and gives travelers the information they need to make faster decisions about choosing a vacation rental.
For more information on TruPlace, please contact Mike Heller at mikeheller(at)truplace(dot)com.