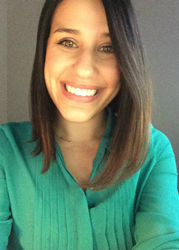 Not only are these good people with good intentions, they are extremely innovative, and it is plain to see that they are pioneering this [sign] industry.
Ontario, CA (PRWEB) January 28, 2015
Vantage LED recently gained a new member to their team, Jillian Kern. Jillian will be focused on personally reaching out to Vantage's dealer partners, ensuring installed signs are reaching their maximum potential with SM Infinity's custom content creation, writing press releases for Vantage and their dealers, and social media engagement.
Since beginning her career in marketing, Jillian has been mainly focused on exercising her writing skills. New to the LED sign industry, she is enthusiastically learning about the industry that her fellow co-workers take so much pride in.
"I was excited to join a team that is passionate about their industry and has an utter care for their partners and everyone involved," stated Kern. "Not only are these good people with good intentions, they are extremely innovative, and it is plain to see that they are pioneering this [sign] industry."
In 2015, Vantage plans to take their dealer partner relationships to another level, ensuring that the promise of "never an ordinary experience" is true for all their dealers. Jillian will be proactively reaching out to Vantage's dealer partners, in order to personally get to know them and their business, and, ultimately, gain insight that will help enhance the Vantage experience.
"Vantage is doing things differently," stated Kern. "You won't often find a company that reaches out to their customers to get to know how their product is serving them and if any improvements can be made."
On top of getting to know the Vantage dealer network, Jillian will also be writing press releases that are centered around the dealers and their clients, providing a credible testimonial for their businesses. "I am excited, not only to get Vantage's stories out there, but to also be a part of Vantage's efforts to grow their dealers' businesses," added Kern.
In addition to reaching out to their partners, Jillian will also reach out to users of the innovative cloudware solution for controlling digital signage, SM Infinity. Upon purchasing a sign from Vantage, users receive free professional content creation from SM Infinity. She will ensure that business owners recognize that having appealing content on their display is more effective and helps them get the most value out of their sign.
"The team behind SM Infinity is great at what they do, and they are dishing out solid content for our signs on a daily basis. It is important to Vantage that their signs look great, not only to perform well for the end-user, but also for the dealer to get referral business. Just another way that Vantage goes beyond the sale."
When Jillian is not marketing, writing, or connecting with Vantage's dealers, she takes advantage of living in the live music capitol of the world, Austin, TX. She enjoys live music, trying new restaurants and new foods, cooking, blogging, traveling, and reading.
"Jillian has hit the ground running. She has thoroughly reviewed our website, read every press and blog release, and has taken great interest in learning this industry. With her candor, poise, and energy, she will definitely be effective for our dealer partners," stated Paul Martin, Chief Marketing Director for Vantage LED.
Jillian looks forward to advancing her career at Vantage LED and takes great pride in helping further solidify Vantage's partnerships.
About Vantage LED:
In an industry becoming stagnant, Vantage LED, a Premier U.S. Manufacturer of Innovative Outdoor LED Displays, is forging ahead providing revolutionary digital solutions with innovative hardware and intuitive software featuring professional content creation with internet & mobile access through the SM Infinity™ platform; all backed by real human support, strong resources, and smart business. Vantage LED invites you to discover the simplicity they bring to the LED industry.