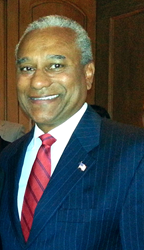 I can think of no other industry I am more passionate about than the charitable giving market
San Diego, California (PRWEB) January 14, 2015
FlowPay Corporation announced today that Christopher Williams has been appointed Chairman of the Board of Directors. Williams, who previously served as Chairman of the Advisory Board, replaces Wayne Steiger, who will continue to serve on the Board of Directors and as Chief Executive Officer.
"Christopher had contributed greatly to the incredible momentum the company is experiencing since joining the board last year," said Wayne Steiger. "His strategic vision and corporate experience in taking companies to the market are well established. We are very excited he accepted this new role as chairman and look forward to an explosive year in 2015."
"I am honored and humbled to accept this appointment," said Christopher Williams. "Throughout my thirty-eight year career in finance and corporate governance, I can think of no other industry I am more passionate about than the charitable giving market. FlowPay addresses a long-standing need which nonprofit entities have had in providing simple, digital solutions for donors to give. Social giving is at an all-time high thanks to crowdfunding websites such as Indiegogo and Kickstarter. FlowPay uniquely addresses another growing need of nonprofits which is government compliancy through its patented processes and is ready to lead the way in the charitable giving market."
Williams has over thirty years of experience in corporate finance and investment property transactions and is currently serving as a Managing Director of Trinity Equity Partners, Inc. His background includes service on boards of directors and advisory boards for several hedge funds and venture capital firms and has served as Outside Corporate Counsel for several publicly traded companies and financial institutions. Williams has been involved in all aspects of corporate governance, active in domestic and international corporate transactions, major mergers, M&A offerings, acquisitions and joint ventures as well as equity instruments. Williams previously practiced law as a corporate attorney in California, Washington, D.C., and Virginia. Williams received a Bachelor of Arts degree in Economics from Brown University and earned his Juris Doctorate from the University of Virginia School of Law.
FlowPay, a SaaS payment-processing technology company, developed the first Digital Wallet for the charitable giving market. FlowPay serves the nonprofit and tax-exempt sectors, including religious, social, sporting, education, science, corporate, health care foundations, community, cause-focused, and political organizations. FlowPay offers a complete solution for office, mobile, and online donations with an integrated back-office reporting system that incorporates regulatory compliance while providing essential security and privacy protection.