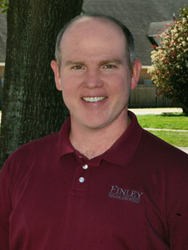 New Iberia, LA (PRWEB) January 12, 2015
Dr. James M. Finley of Finley Periodontics is expanding his sedation dentistry practices to accept patients from New Iberia, LA. As a periodontist, Dr. Finley treats many patients who need help with their fear of dental procedures. He understands the stress of dental visits and wants to help those who have so much fear that they put off getting the care they need. With New Year's resolutions for improved oral health, Dr. Finley recommends setting goals to get needed work done. He uses sedation to make appointments comfortable for everyone, despite the anxiety that they may face.
Whether patients fear the sounds or smells of a dental office or are so terrified of the possibility of dental pain that appointments become miserable, Dr. Finley provides solutions. His motto is "our goal is to give you a great experience, not just great treatment." He knows that as important as assurance and a good bedside manner are, they are not enough to help some people relax. Rather than allow his patients who suffer from anxiety to struggle through their appointments on their own, he gives them sedation that allows them to relax.
Sedation dentistry is an important option for anxious dental patients from New Iberia, LA. It can improve much more than the time spent in the dental chair. Patients who suffer from a dread of dental appointments frequently have more pain and worse dental health than those who do not have the same problems with anxiety. This happens because the trauma of dental visits makes them postpone getting care. Dr. Finley understands that high levels of fear are not anything that anybody chooses. People trapped in this cycle are in need of help and understanding. He uses sedation to make appointments less stressful and to help them get the care they need. With the possibility of sedation now open to more patients, Dr. Finley encourages everyone to make New Year's resolutions to seek out the help they need.
Those living in New Iberia, LA who are interested in sedation dentistry are invited to visit Dr. Finley's website for more information. Dr. Finley is also happy to schedule no-obligation consultations to discuss individual needs and ways he can help.
About the Practice
Finley Periodontics is a periodontal practice offering personalized dental care for patients in Lafayette, LA. Dr. James M. Finley received his D.M.D from the University Of Mississippi School Of Dentistry and his certificate in Periodontics from Louisiana State University School of Dentistry. He went on to earn his M.S. in oral biology from Louisiana State University while serving as a full time assistant professor. Dr. Finley is part of one percent of dental professionals providing the LANAP® FDA cleared laser procedure for gum disease and periodontal treatment. To learn more about Finley Periodontics and their dental services visit their website at http://www.finleyperio.com and call (337) 504-7263.