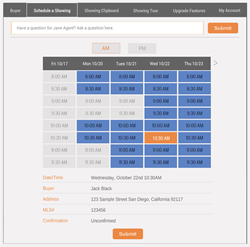 San Diego, California (PRWEB) January 13, 2015
Showing Suite, Inc., the widest utilized showing system in North America, announced today a new benefit for the Greater San Diego Association of REALTORS (SDAR) to provide its members with their brand new MLS showing scheduling system. Members will be able to automate the scheduling of showings directly within and outside the MLS to schedule all of their showings. It replaces a human call center or the need for dedicated staff to schedule showings. It also allows SDAR members add the MLS phone number to their property signs for buyers to view information about that property, and schedule a showing directly from their phone.
"SDAR strives to provide the top real estate tools for its members and is thrilled to offer Showing Suite. The Showing Suite system will be a great member benefit that will help our REALTORS® save time and provide additional service to their clients. We are committed to making real estate transactions in San Diego County as efficient as possible by providing industry leading, state of the art technology tools for our members."
– Mike Mercurio, CEO of SDAR
Showing Suite's MLS version offers automated showing scheduling integrated inside the MLS software service where buyers can call or text the MLS local showing scheduling phone number. The showing is then set up automatically through email, text, automated calls, or any combo for the contact preferences of the seller, listing agent, tenant, etc. Showings are selected from available times on the showing calendar. Agents can also ask questions about the listing through the system before they schedule a showing to expedite the process and document it.
SDAR listing Agents can use the MLS local showing phone number on all of their property signs for the Showing Suite "Text2Show" service. This service is similar to the mobile app "Open Table" for buyers to schedule showings. The buyer sends a text to the number which allows them to find that property, see a mobile property flyer for that home, and choose an available showing time. After scheduling, the system automatically calls, emails, and texts the necessary confirming parties and texts the buyers back confirming their showing. The buyers can also select the Patents Pending "InstaShow" button to request an immediate showing, giving the confirming parties the option to try and get the buyer in the home as soon as possible.
All SDAR agents receive the complimentary "Showing Note" mobile app for iPhone and Android. Showing Note is similar to the mobile app EVERNOTE for real estate showings. Buyers share a "Showing Notebook" with their co-buyer, agent, or whomever they would like to keep track of all of their showings. Buyers can take pictures, videos, or notes during home showings to save all of the information from the homes they have seen and can share that information with their collaborators or on Facebook and Twitter. Once they have checked-in at a home, buyers can opt-in to receive email, text, and push notifications to alert them of any price changes or market updates for any of the homes they have visited.
The Showing Suite system is optional for any SDAR agent to place on their listing page in the MLS or to use "Text2Show". The CEO of Showing Suite, Rick Bengson, stated, "Our new MLS showing system is built for 2015 and it shows in the user interface and built for mobile first. The system is fully customizable to each agent and how they run their real estate business. This is the reason our system is the widest utilized showing system in all of North America. We are excited to provide our service to the SDAR agents. We also provide free credits to try the full Showing Suite Ultimate version that includes additional functionality for agents and their sellers, or they can always continue to use all of the included benefits provided by SDAR."
Bengson goes on to say, "We are now offering MLS boards an absolutely free integrated showing service that is optional whether their agents want to take advantage of this for their business or not. MLS boards who don't currently have a showing solution can now add this to their solutions menu. MLS boards who currently pay for a showing service can switch to Showing Suite and save that money to either reduce dues or offer additional services. We think we have the model that makes the most sense for the MLS and their customer agents and their agents' clients."
About Greater San Diego Association of REALTORS®
With more than 12,000 members and 7 service locations, the Greater San Diego Association of REALTORS® is the largest trade association in the county. We help our members, who adhere to a code of ethics and professional standards, sell more homes. We also help people realize the dream of home ownership, and we are dedicated to protecting private property rights. For more information, please visit http://www.SDAR.com.
About Showing Suite, Inc.
Showing Suite, Inc. develops and implements market-leading tools that allow real estate professionals to sell homes smarter and faster since 2001 offering versions for individual agents, teams and offices. The company is launching its new MLS version in 2015.
The new MLS version is currently being offered free for MLSs. Integrations are also being launched for the most popular MLS online stores for single sign on integrations.
Showing Suite has brought a suite of web-based software solutions for the real estate sector to market, including its flagship product, HomeFeedback®, as well as Home Followup, Listing Sync, Showing Sync®, ForeclosureFeedback®, and Showing Calendar®. Since inception, Showing Suite™ has helped more than 900,000 real estate professionals in the U.S. and Canada manage their showings and the feedback from those showings.
# # #
If you would like more information about this topic, please contact Michelle Costa at 858.270.1055 or email at MichelleC(at)ShowingSuite(dot)com.