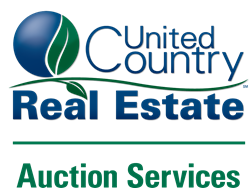 These numbers reinforce the fact that consumers are learning more about the accelerated method of marketing's convenience and benefits to both buyers and sellers of real estate
KANSAS CITY, Mo. (PRWEB) January 13, 2015
The final quarter of 2014 saw the continued increase of auction services used by buyers and sellers in real estate transactions. United Country Auction Services reported a 51-percent increase in sales volume in the 4th quarter over 2013 during the same time period. Additionally, the number of auctions saw a sharp increase of 68 percent toward the end of 2014.
"These numbers reinforce the fact that consumers are learning more about the accelerated method of marketing's convenience and benefits to both buyers and sellers of real estate," said Mike Jones, president of United Country Auction Services. "By allowing sellers to set the terms of the transaction in advance of the sale and buyers to determine a property's fair market value through the bidding process knowing the seller is motivated to sell in an allotted period of time, auctions offer the most transparent method of sale in today's market."
United Country Auction Services is also reporting real growth in every sector it tracks for year-to-date numbers including land, residential, commercial and personal property. The amount of acreage being sold was up an impressive 28 percent and management sees no reason why this year will not be their best yet.
"It's been an exceptional year for auctions, and we are confidentially forecasting continued strength in 2015," said Jason Cole, chief financial officer for United Country Real Estate. "In eight years since the inception of United Country's auction division, this method of sales has come to represent more than 20 percent of the real estate firm's total business. We expect this number to rapidly increase going forward with even more positive news in real estate auction sales throughout next year."
To learn more about United Country Auction Services and opportunities available with the company, please visit UCAuctionServices.com.
About United Country Auction Services
United Country Auction Services – a division of the United Real Estate Group – is the largest, fully integrated network of conventional and auction real estate professionals globally. The company has been an innovator in real estate marketing since 1925. United Country supports nearly 600 offices and 5,000 real estate marketing professionals and auctioneers across four continents, with a unique, comprehensive marketing program that includes one of the largest portfolios of property marketing websites, the largest real estate marketing services company, an extensive buyer database of nearly 550,000 opt-in buyers and international advertising of properties.