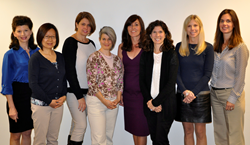 "Providing support and helping patients to learn how to manage their stress can increase a patient's chances of staying in treatment and ultimately getting pregnant," says Lisa Schuman, LCSW, Director of Mental Health at RMACT.
Norwalk, CT (PRWEB) January 13, 2015
Reproductive Medicine Associates of Connecticut (RMACT), which opened a new Norwalk location this month, has more space dedicated to its Integrated Fertility and Wellness (IFW) Program. RMACT's IFW Program, which includes acupuncture, counseling, support groups, Fertile Yoga classes and a complete nutrition program, will host a more extensive roster of classes and workshops and will have more IFW appointment rooms than the current location. The IFW Program and its improved location help support patients going through in vitro fertilization (IVF) and other fertility treatments.
IFW services help fertility patients optimize their health, improve their coping skills, and decrease stress. This, along with knowledge about nutrition, lifestyle, and stress management, can lead to improved pregnancy rates and healthier patients and pregnancies. Additionally, patients who are able to manage their stress are more likely to stay in treatment until they have success. With this in mind, RMACT's new Norwalk office was designed to have a positive patient experience. From the moment patients walk into the Norwalk location, they are surrounded by the airiness of expansive windows and privacy features such as soundproof rooms. They can also take comfort in security measures such as the biometrics system for access to the IVF laboratory and cryopreservation storage.
"It's a well-documented fact that infertility treatment can be stressful," says Lisa Schuman, LCSW, Director of Mental Health at RMACT, who has worked with fertility patients for almost 20 years. "Providing support and helping patients to learn how to manage their stress can increase a patient's chances of staying in treatment and ultimately getting pregnant."
Currently, RMACT hosts more than 200 workshops, support groups and classes each year, many of which are complimentary and open to the public, through its IFW Program. The new Norwalk location allows the IFW Program to host more classes and meetings. Many of these classes discuss nutrition and polycystic ovarian syndrome (PCOS); since 2010, RMACT's Nutrition Program has been conducting diagnostic testing, nutrition counseling and monitoring, all conveniently located in one facility. RMACT also holds weekly Fertile Yoga classes at three RMACT locations in Fairfield County. Also, RMACT offers several different types of support groups; patients can choose a group facilitated by an LCSW or a peer, and they can choose a group with other patients in similar situations, such as using donor egg or donor sperm, working with a gestational carrier or struggling with difficult decisions.
"We can see the impact of our services through clinical data and on the visible difference on our patients' faces before and after treatment," says Amy Matton, Director of RMACT's IFW Program and one of RMACT's three acupuncturists. "Based on the patients' needs, our fertility doctors and nurses may suggest trying acupuncture, yoga, nutrition counseling or a support group. It is important for patients to have this additional support to help them improve their physical and mental health wellbeing."
In an effort to help minimize stress for its patients during fertility treatment, RMACT has built its fertility practice on several patient conveniences over the past 12 years. RMACT will continue to be open 361 days out of the year in order to provide nearly continuous support and medical attention to its infertility patients. The practice also has four locations across Fairfield County (Danbury, Norwalk, Stamford, Trumbull) to give patients flexibility when scheduling appointments. Each RMACT patient has his or her own fertility team that includes a board certified reproductive endocrinologist, fertility nurse, financial advisor and patient navigator.
RMACT's new location, which is on the second floor of the iPark office complex (761 Main Avenue, suite 200, Norwalk, CT, 06851), is 1.3 miles from the current office. It is centrally located in Norwalk with easy access from Route 7 and the Merritt Parkway.
About Reproductive Medicine Associates of Connecticut (RMACT)
RMACT specializes in the treatment of infertility, including assisted reproductive technologies (ART) such as intrauterine insemination (IUI), in-vitro fertilization (IVF), and Comprehensive Chromosome Screening (SelectCCS). RMACT, Fairfield County's largest fertility clinic and egg donation center, is one of 11 leading In Vitro Fertilization (IVF) centers nationwide chosen by In Vitro Sciences to participate in its Centers of Excellence program. RMACT has offices in Norwalk, Danbury, Stamford and Trumbull, and an affiliate New York fertility clinics serving Putnam and Dutchess counties. RMACT also offers infertility treatment financing and support services, such as nutrition counseling, psychological counseling, acupuncture and yoga, through RMACT's Integrated Fertility and Wellness Center.
The RMACT team includes lead physicians Drs. Mark P. Leondires, Spencer S. Richlin and Joshua M. Hurwitz, as well as fertility specialists Drs. Cynthia M. Murdock, and Shaun C. Williams. All five physicians are Board-Certified Reproductive Endocrinologists and are members of the American Society for Reproductive Medicine (ASRM) and the Society for Assisted Reproductive Technology (SART). Each has received numerous awards, and all five are Castle Connolly "Top Doctors." RMACT's IVF laboratory is accredited by the College of American Pathologists (CAP), and CLIA; other accreditations include the Accreditation Association for Ambulatory Health Care (AAAHC) and the American Institute for Ultrasound in Medicine (AIUM). For more information visit http://www.RMACT.com or find us on Facebook.