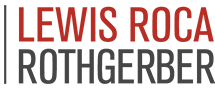 Denver, Colorado (PRWEB) January 13, 2015
Lewis Roca Rothgerber LLP is proud to announce that seven of its attorneys have been named by 5280 magazine to its inaugural "Top Lawyers 2015" list, the magazine's first list of Denver metro-area attorneys in 46 fields of practice who have been recommended by their peers.
Seven Lewis Roca Rothgerber attorneys were recognized among the 345 lawyers selected, including: Frederick J. Baumann (commercial litigation), Justin D. Cumming (agricultural/rural law), Thomas J. Dougherty, II (natural resources), William P. Johnson (banking law), Gregory B. Kanan (anti-trust law), Trey Rogers (government relations law) and James R. Walker (taxation/corporate law).
To compile the inaugural list, 5280 sent out ballots to thousands of metro-Denver attorneys asking for recommendations in various categories of law. All licensed attorneys in the seven-county metro area were welcome to participate. The editors then conducted dozens of interviews with some of the most respected lawyers in the region to get an insider's perspective.
About 5280
Founded in 1993, 5280 is the largest local magazine in Colorado with a total paid circulation of more than 71,000. Since 2005, 5280 has been a finalist for six National Magazine Awards, and in 2012 was named one of the five best big-city magazines in America by the City and Regional Magazine Association.
About Lewis Roca Rothgerber LLP
Lewis Roca Rothgerber LLP is one of the largest law firms in the Western U.S. The firm maintains thriving practices in intellectual property, litigation, real estate, business transactions, gaming, banking, bankruptcy and energy and natural resources with more than 250 attorneys across nine offices including Denver, Colorado Springs, Phoenix, Tucson, Albuquerque, Casper, Las Vegas, Reno and Silicon Valley. For additional information, please visit http://www.LRRLaw.com.