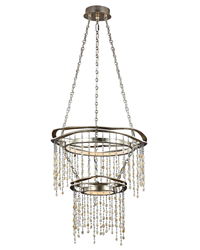 According to Generation Brands' COO Sean Lavin, "By taking advantage of our new, proprietary LED technology, we've been able to create unique fixtures and deliver what the marketplace demands in LED."
Skokie, Ill. (PRWEB) January 13, 2015
Feiss and Monte Carlo, among America's top brands offering high-quality, design-driven, interior and exterior residential lighting and fans, will unveil one of the largest new product launches in its history with more than 610 new items—25 percent of them LED—during the International Lighting Market, January 14-18, 2015, at the Dallas Market Center, 2100 North Stemmons Freeway, Showroom #TM-4010. The Feiss-Monte Carlo showroom officially opens one day earlier than the Market on Tuesday, January 13.
"This is the second year Sean Lavin, the Chief Design Officer for our parent company Generation Brands, has led the design vision for Feiss," said Feiss-Monte Carlo President Matt Vollmer. "Sean and his team with our engineering department have brought to fruition an extensive, balanced new offering in terms of pricing and aesthetic styles—from modern and contemporary to transitional and traditional—while leveraging new technologies in LED."
Proprietary LED Technology with an Integrated Approach
According to Lavin, Feiss will introduce numerous new dedicated LED products, integrate LED into a significant portion of the brand's existing product line and offer LED replacement bulbs for easy conversion. "By taking advantage of our new, proprietary LED technology—which was made possible by leveraging the partnerships and scale of our parent company Generation Brands—we've been able to create unique fixtures and deliver what the marketplace demands in LED. These new pieces are the marriage of an integrated LED form and uncompromising performance—with the aesthetic design details our customers have come to expect from Feiss."
Innovative Warm-on-Dim LED
As part of the brand's integrated LED approach, Lavin said "our new warm-on-dim LED modules will be in more than 170 fixtures across 16 collections—as we've retrofit much of our existing products with this technology. Our proprietary module not only offers warm dimming from 2700K to 2200K, it also has an outstanding 90+ color rendering index. Also, because we're using driverless AC technology, we're able to keep the costs extremely competitive without compromising quality. No other similarly priced LED solution in the industry offers this level and type of light performance."
Monte Carlo Fans
Lavin said this year's focus for Feiss' sister brand Monte Carlo is on technology to bring high-performing fans across all styles to market. "Each new fan will include integrated LED lighting or LED in optional light kits, and just like Feiss, we're focusing on design details."
About Feiss-Monte Carlo
For more than 50 years, Feiss has offered a full line of high-quality interior and exterior residential lighting in addition to ceiling fans through its Monte Carlo brand. Feiss delivers refined, fashion-forward lighting at accessible price points and is known in the industry for its reliable products and exceptional customer care. With pride in its past and a commitment to the future, employees from coast to coast and across the globe all work together to continually deliver the very best in lighting and service. For product information or to find a nearby dealer, visit http://www.feiss.com and/or http://www.montecarlofans.com. For decorating ideas, go to http://www.facebook.com/FeissMonteCarlo or http://www.pinterest.com/feissmontecarlo.
About Generation Brands
As parent company to Feiss-Monte Carlo, Generation Brands is one of America's leading companies serving lighting retailers plus the electrical wholesale, home improvement and building industries. The company has an outstanding portfolio of residential and commercial lighting fixtures and ceiling fans which provide value and growth to its customers and end-users with superior service, leading edge design and outstanding quality.