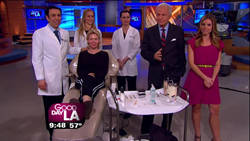 Los Angeles, CA (PRWEB) January 13, 2015
On January 5, 2015, Elle Magazine posted an online article titled "How to Decode Your Skincare Ingredients Like a Pro" that gives a brief primer on deciphering the marketing jargon companies use to promote their skincare products. Among things to know, manufacturers must list skincare ingredients by their percentage of the product's formulation in descending order. In other words, the first ingredient on the list is the most prevalent and the last item on the list the least. Also, it's important to be aware that skincare product manufacturers are very careful with their wording to take advantage of unsuspecting consumers. (see: goo.gl/V2jNC6)
"The report itself is somewhat confusing in that it notes that there is often very little of the last items on the ingredient list in the product but that isn't necessarily an indication of inefficacy," says Dr. Simon Ourian, Medical Director of Epione Beverly Hills. "Unfortunately, as written, this isn't a particularly helpful guideline. Consumers need to to educate themselves on the specific properties of the active ingredients."
According to the Elle Magazine article, some skincare companies use preservatives that also serve as odor masking agents in order to maintain the "preservative free" label. Because the FDA regulates acne products as over-the-counter drugs, manufacturers tend to stay away from the term "acne," using words like "clarifying" instead. Finally, it's important for consumers to distinguish between physical and chemical sunblocks. According to the report, consumers should always opt for a physical sunblock.
"I'm all for consumers arming themselves with as much information as possible," says Dr. Ourian. "This report is a starting place at best, consumers will need to do considerably more research before they can consider themselves educated on the subject of skincare ingredients."
Dr. Ourian has been a pioneer in laser technology and non-invasive aesthetic procedures including Restylane, Juvéderm, Radiesse, Sculptra, and CoolSculpting. These treatments are used for the correction or reversal of a variety of conditions such as acne, acne scars, skin discoloration, wrinkles, unwanted fat, stretch marks, varicose veins, cellulite, and others. More information about skin care can be found on Epione's website.