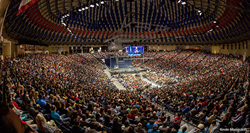 Lynchburg, Va. (PRWEB) January 12, 2015
Liberty University has announced its Spring 2015 Convocation schedule, which includes New Orleans Saints tight end Ben Watson, Christian author Beth Moore, television producer Mark Burnett ("Survivor," "The Voice," "The Bible," "A.D."), Fox News host Sean Hannity, Grammy Award-winning artist Kirk Franklin, television personality Sean Lowe ("The Bachelor"), Virginia Governor Terry McAuliffe, and next generation leader Matt Chandler. Students will also get to hear music from Christian artists like Kari Jobe, Shane & Shane, Nichole Nordeman, and Rush of Fools.
Convocation, North America's largest weekly gathering of Christian students, is held three times a week in Liberty's Vines Center.
"We are thrilled about this semester's guest list," said David Nasser, Liberty's senior vice president for Spiritual Development. "The word that keeps coming to mind when I think about this semester's roster is 'expectation.' We are expecting God to do great things in and through our campus."
Nasser noted that those who have been at the university for multiple years have said that this semester includes one of the most diverse Convocation slates ever. Students will hear from NFL players, mega church pastors, comedians, TED talk speakers, authors, missionaries, church planters, and politicians from both sides of the aisle.
Last semester, President Jerry Falwell and his wife, Becki, designated the box in the Vines Center as a prayer hub, where students spend time before and after Convocation praying for the event.
This semester will also see a change in the traditional Convocation format. On certain days, the stage will be moved to the middle of the Vines Center, giving students a different way to interact with what is taking place on the platform. Mondays will be focused on either "prayer," "praise," "perspective," or "play."
According to Nasser, perspective Convocations are opportunities where students will hear from speakers who will challenge them with unique insights, some might even stretch their minds. Play Mondays, meanwhile, give students a break from the routine, such as the opportunity to hear a comedian or participate in a carnival.
Hundreds of hours have been spent in preparation for the new stage plans, scheduling, and logistics for the 30-plus Convocations this semester.
"Our Convocations are a labor of love brought to you by an army of dedicated people from multiple departments," Nasser said.
Liberty is also excited to partner with Christian author, speaker, and humanitarian Christine Caine to launch her new initiative, Propel, designed to encourage and equip women for leadership. Propel launch week, Jan. 26-30, includes Convocations with Caine, Hillsong (New York) pastor Carl Lenz, and Beth Moore, as well as worship lead by Kari Jobe and Meredith Andrews.
Past Convocations can be viewed at http://www.Liberty.edu/Streaming. The most up-to-date Convocation schedule is available at http://www.Liberty.edu/Convo.
About Liberty University
Liberty University, founded in 1971, is the largest private, nonprofit university in the nation, the largest university in Virginia, and the largest Christian university in the world. Located near the Blue Ridge Mountains on more than 7,000 acres in Lynchburg, Va., Liberty offers more than 450 unique programs of study from the associate to the doctoral level. More than 200 programs are offered online. Liberty's mission is to train Champions for Christ with the values, knowledge, and skills essential for impacting tomorrow's world.