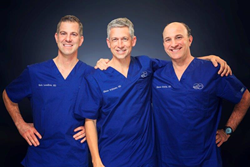 We owe our success to a combination of science and compassion," says Dr. Leondires, one of five Board Certified reproductive endocrinologists at RMACT. "Everyday we want to improve our patients' fertility care experience through hope and proven results."
Norwalk, CT (PRWEB) January 15, 2015
Reproductive Medicine Associates of Connecticut (RMACT) has three "Top Doctors" in the January/February issues of Fairfield Living, Greenwich, New Canaan-Darien, Westport and Stamford magazines, all of which are published by Moffly Media and are on stands now. Dr. Spencer Richlin, Surgical Director and Partner; Dr. Mark Leondires, Medical Director and Partner; and Dr. Shaun Williams, Fertility Specialist, have each been chosen by their peers for the 2015 list of Fairfield County's Top Doctors.
Moffly Media's list is compiled by the renowned healthcare research firm Castle Connolly Medical Ltd., which conducts a rigorous, peer-reviewed assessment of local doctors by their peers.
"We owe our success to a combination of science and compassion," says Dr. Leondires, one of five Board Certified reproductive endocrinologists at RMACT. "Everyday we want to improve our patients' fertility care experience through hope and proven results."
At RMACT frozen embryo transfer delivery rates are higher across all age groups compared to the national rates (http://www.sart.org). Frozen embryo transfer cycles are the future of reproductive medicine based on many advances in the past 10 years. To better meet the needs of its patients, RMACT is moving to a new location in Norwalk, CT that will have one of the most advanced embryology labs in the country in January 2015.
Dr. Richlin, who is on the Castle Connolly list for the forth-consecutive year, is a partner with RMACT. In addition to his responsibilities at RMACT, he is the Division Chief of Reproductive Endocrinology and Fertility at Norwalk Hospital. He is a member of the American College of Obstetrics and Gynecology (ACOG) and of the American Society for Reproductive Medicine (ASRM), and is on the writing committee for the 2015 Reproductive Endocrinology & Infertility PROLOG sponsored by the ACOG. Dr. Richlin received his undergraduate degree in psychology from the University of California at Berkeley, and his medical degree from the University of Southern California Keck School of Medicine. He completed two internships, one in Emergency Medicine and one in Obstetrics and Gynecology. Dr. Richlin served his residency at Stamford Hospital in Stamford Connecticut from 1995-1999, where he was named Berlex Best Teaching Resident. He then completed his subspecialty fellowship in reproductive endocrinology and infertility at Emory University School of Medicine in Atlanta, Georgia.
This is the third consecutive year that Dr. Williams has been included on the list of Fairfield County's Top Doctors. Dr. Williams earned his undergraduate degree from University of Texas at Austin and went on to study medicine at Baylor College of Medicine in Houston, Texas, where he was part of the Alpha Omega Alpha Honor Medical Society. He conducted his internship and residency at The University of Texas Southwestern Medical Center, where he received the Berlex Labs Resident Teaching Awards. Dr. Williams completed a fellowship in reproductive endocrinology and infertility at The Jones Institute for Reproductive Medicine at Eastern Virginia Medical School. Dr. Williams has been published numerous times, and has presented the findings of his research to national medical societies. He is a member of ASRM, Fairfield County Medical Association, Fellow of American College of Obstetrics and Gynecology, and associate member of Society for Reproductive Endocrinology and Infertility.
Dr. Leondires is a founding partner with RMACT, which opened in 2002. His professional society memberships include the Society of Reproductive Endocrinologists, ACOG, and ASRM. Prior to joining RMACT, he served as the Director of Assisted Reproductive Technologies at the Combined Federal Program for Reproductive Endocrinology. While under his direction, the ART Program was one of the most successful in the Washington DC area and in the top tenth percentile nationally. During this time he was an Assistant Professor at the Uniformed Services University of Health Sciences and clinical faculty for the Combined Fellowship in Reproductive Endocrinology. He received his undergraduate degree in biochemistry and history from Colby College in Waterville, Maine. He earned his medical degree from the University of Vermont College of Medicine in Burlington, Vermont. He completed his residency in Obstetrics and Gynecology at Maine Medical Center in Portland, Maine, which was followed by a fellowship in Reproductive Endocrinology and Infertility at the National Institutes of Health in Bethesda, Maryland.
About Reproductive Medicine Associates of Connecticut (RMACT)
RMACT specializes in the treatment of infertility, including assisted reproductive technologies (ART) such as intrauterine insemination (IUI), in-vitro fertilization (IVF), and Comprehensive Chromosome Screening (SelectCCS). RMACT, Fairfield County's largest fertility clinic and egg donation center, is one of 11 leading In Vitro Fertilization (IVF) centers nationwide chosen by In Vitro Sciences to participate in its Centers of Excellence program. RMACT has offices in Norwalk, Danbury, Stamford and Trumbull, and an affiliate New York fertility clinic serving Putnam and Dutchess counties. RMACT also offers infertility treatment financing and support services, such as nutrition counseling, psychological counseling, acupuncture and yoga, through RMACT's Integrated Fertility and Wellness Center.
The RMACT team includes lead physicians Drs. Mark P. Leondires, Spencer S. Richlin and Joshua M. Hurwitz, as well as fertility specialists Drs. Cynthia M. Murdock, and Shaun C. Williams. All five physicians are Board-Certified Reproductive Endocrinologists and are members of the American Society for Reproductive Medicine (ASRM) and the Society for Assisted Reproductive Technology (SART). Each has received numerous awards, and all five are Castle Connolly "Top Doctors." RMACT's IVF laboratory is accredited by the College of American Pathologists (CAP), and CLIA; other accreditations include the Accreditation Association for Ambulatory Health Care (AAAHC) and the American Institute for Ultrasound in Medicine (AIUM). For more information visit http://www.RMACT.com or find us on Facebook.
# # #