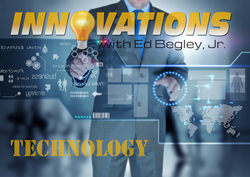 Jupiter, FL (PRWEB) January 14, 2015
DMG Productions announces the upcoming airing of Innovations with Ed Begley, Jr., scheduled to broadcast on Friday, January 23, 2015 at 7:30 a.m. ET and 7:30 a.m. PST, via Discovery Channel.
In this episode Innovations will explore the positive impact of Bramal LED's T-10 lamps, which provide over 80,000 hours of continuous lighting, and can reduce energy consumption by up to 70 percent.
Audiences will learn how Green Lumens™ utilizes a turnkey customized approach to lighting and sustainability by designing, manufacturing, installing and maintaining light fixtures solutions with LED products. This segment focuses on Green Lumens™ retrofitting technology for conventional lighting, which reduces operating expenses while reducing greenhouse emissions and improving sustainability.
The show will feature Telematics Wireless' Energy and Water Resource Management solutions, which include high performance end-to-end solutions for Smart Grids. Viewers will learn about their monitoring, control, and communication capabilities to electricity utilities, which optimizes the operations of the entire electrical grid for consistent, measurable results.
Additionally, Innovations will showcase Good Neighbor Community Services and their vision to redefine the traditional approach to serving the mental health community by providing individualized and dynamic services.
"Advancements in science and technology continue to revolutionize the way we live," said Robert Sikich, Producer for the series. "We look forward to educating our viewers on these exciting breakthroughs."
About Innovations & DMG Productions:
Innovations, hosted by award winning actor Ed Begley, Jr., is an information-based series geared toward educating the public on the latest breakthroughs in all areas of society. Featuring practical solutions and important issues facing consumers and professionals alike, Innovations focuses on cutting-edge advancements in everything from health and wellness to global business, renewable energy, and more.
DMG Productions (responsible for creating the Innovations show) includes personnel specialized in various fields from agriculture to medicine, independent films to regional news and more. Our field producers work closely with experts in the field to develop stories. This powerful force enables us to consistently produce commercial-free, educational programming that both viewers and networks depend on.
For more information visit: http://www.InnovationsTelevision.com. You can also contact Robert Sikich at (866) 496-4065 x 805 or via email: Robert(AT)InnovationsTelevision.com.