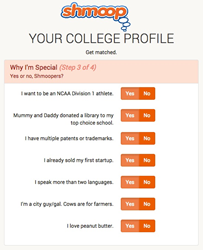 Mountain View, California (PRWEB) January 13, 2015
There's no secret formula for students to get in to their dream college, but Shmoop, a digital publishing company that aims to make learning fun, comes close. An entire section of Shmoop (http://www.shmoop.com), called College 101, is devoted to providing honest and insightful information to prospective college students, all the way from defining their interests and choosing colleges to preparing the application and finding financial aid.
And now Shmoop has two new tools to make the process even more seamless.
Shmoop's College Planning Tool asks students a series of questions: Do they want to be Division I athletes? Are they city or country folk? Have they already sold their first startup? And of course, what are their SAT® and ACT® scores? Based on their interests, test scores, and general financial outlook, Shmoop then compiles a personalized list of safety, target, and reach schools. Shmoop also provides cost-effectiveness ratings of these schools to be sure everyone gets the best bang for their buck. Students can then learn more about each school...all within the confines of Shmoop.
Once they've chosen which schools they'll apply to, students will need to prepare killer applications. Shmoop already offers a College Application Essay Lab and dozens of articles about the application process—and now it will help students build their resumes, too. Shmoop's new Resume Redux is like Mad Libs™ for resumes: students fill in the blanks, and Shmoop spits out a fancy, formatted resume.
With all these tools combined, students who Shmoop are guaranteed* to be accepted by the colleges—and jobs—of their dreams. (*Guarantee not guaranteed.)
About Shmoop
Shmoop is a digital curriculum and test prep company that makes fun, rigorous learning and teaching resources. Shmoop content is written by experts and teachers, who collaborate to create high-quality and engaging materials for teachers and students. Shmoop Courses, Test Prep, Teaching Guides, and Learning Guides balance a teen-friendly, approachable style with academically rigorous concepts. Shmoop sees 10 million unique visitors a month on its site and offers more than 7,000 titles across the Web, iPhone, Android devices, iPad, Kindle, Nook, and Sony Reader. The company has been honored twice by the Webby Awards, named "Best in Tech" twice by Scholastic Administrator, and awarded Annual Education Software Review Awards (EDDIES) three years in a row. Launched in 2008, Shmoop is headquartered in a labradoodle-patrolled office in Mountain View, California.
ACT a federally registered trademark of ACT, Inc. Shmoop University is not affiliated with or endorsed by ACT, Inc.
SAT is a registered trademark of the College Board, which was not involved in the production of, and does not endorse, this product.