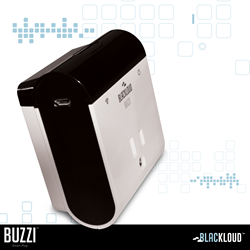 The BUZZI smart plug takes home automation to a whole new level with its Wi-Fi and infrared capabilities.
Irvine, CA (PRWEB) January 13, 2015
Local technology firm BLACKLOUD recently unveiled its latest innovation in home automation. The BUZZI is a Wi-Fi enabled smart plug that allows for precise worldwide control of home electronics through smart phones and other wireless devices. This intelligent outlet looks to revolutionize home life by linking any number of power outlets directly to mobile devices through cloud-based technology, enabling convenient and complete control of home electronics from anywhere in the world.
Global Functionality
The BUZZI regulates power to electronics through the use of a free app, available for both Android and Apple devices. Once the app is installed, the BUZZI can be toggled on and off remotely, complete operation all from one's phone or tablet. The BUZZI and its app effectively enable home control on a global scale, allowing one to stay connected to their electronics from anywhere in the world.
Automatic Timing
The app can also be used to set the BUZZI to run on an automatic timer of operation, modernizing the home by powering off home electronics when one leaves for work, and turning them back on when they return. The BUZZI aims to alleviate the age-old fear of leaving the iron on or tripping down the stairs at night, granting a convenient and self-activating solution to home connectivity.
Grouping the BUZZI
Through the app, multiple BUZZIs can also be arranged into groups or scenes. Groups let multiple intelligent outlets function as a unit, powering on and off at the same time. Scenes are a more sophisticated version of a group, able to toggle select BUZZIs on automatically when others are turned off and effectively modernizing home life at the touch of a button.
Infrared Capabilities
As an upgrade to the outdated remote control, included with every BUZZI is an infrared transmitter. This attachment allows one's mobile device to function as a remote control for televisions, stereos, fireplaces, and all infrared-capable appliances, consolidating the home's remote access to a single convenient device.
About BLACKLOUD: BLACKLOUD provides functionality, style, and convenience to the electronic consumer market. These electronics are high quality, premium, multi-faceted, and multi-functional to provide the best experience for their owners. BLACKLOUD operates locally out of Irvine, California, and is partnered with online retailer Cocoweb for the sale of its state-of-the-art electronic devices. More information can be found at http://www.blackloud.com.
About Cocoweb: Cocoweb is a venerable e-commerce company that has operated locally from Irvine, California for over five years. For more information, visit http://www.cocoweb.com.