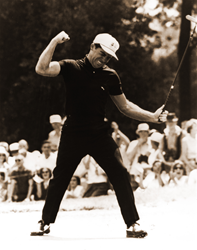 "The Grand Slam is certainly one of my greatest achievements because it showed that all my hard work had paid off," said Gary Player.
Travelers Rest, South Carolina (PRWEB) January 14, 2015
As the 2015 golf season starts to heat up, one of golf's most decorated players, Gary Player, prepares for a momentous milestone. This year, the South African icon will celebrate the 50th anniversary of completing the career Grand Slam.
Player, who went on to become the most successful international golfer in the sport, became just the third individual to clinch golf's most coveted title. Since Player achieved the career Grand Slam, the only other golfers to join him, Ben Hogan, and Gene Sarazen have been Jack Nicklaus and Tiger Woods proving the sheer difficulty of winning each of golf's Major Championships.
"The Grand Slam is certainly one of my greatest achievements because it showed that all my hard work had paid off," said Gary Player. "With that 1965 victory, I became the first non-American to win the U.S. Open in 45 years and became only the third – and youngest, at 29 – to win the Grand Slam. This was an enormous achievement for me."
By 1965, the Black Knight already had achieved unparalleled success for an international golfer as he became the youngest British Open (The Open) victor at age 23 and the first international winner of The Masters.
When Player arrived at the 1965 U.S. Open at Bellerive Country Club with three Major titles to his name, he was convinced that he could win the tournament and thus complete the Grand Slam. That belief proved fruitful as it was Player who lifted the U.S. Open trophy after a Monday, 18-hole playoff round against Australian Kel Nagle.
While the Black Knight celebrates his monumental feat in 2015, there will be a great deal of excitement as Rory McIlroy and Phil Mickelson vie for the chance to join the list of career Grand Slam winners at The Masters and U.S. Open respectively.
Nine-time major champion Player is the only international golfer to have his name etched on each of The Masters, U.S. Open, Open Championship, and PGA Championship trophies still to this day. Should Irishman McIlroy prevail in Augusta, he will join Player as the only other international champion.
The South African golfing legend is the only individual in the sport to claim the Grand Slam on the Senior Tour as well, with a matching nine Major titles on his Senior Tour resume.
Winning the Grand Slam is seen as the ultimate feat in golf, but with that, Gary Player has always felt that using his success to give back to those less fortunate has been integral. The Black Knight made history at the '65 U.S. Open and broke tradition as he donated all his tournament earnings to charity.
Player had previously promised Joe Dey, Director of the USGA, that when he won the U.S. Open, he would donate his winnings. After being handed the winner's check following the 18-hole playoff with Kel Nagle, he upheld his promise and handed the winning check back to Dey specifying that the proceeds should go to two important causes: cancer research, in honor of Player's mother who died of cancer, and the development of junior golf programs by the USGA.
"I was extremely thrilled to be able to give back at that moment, especially since it was such an enormous milestone in my career," said Player.
Player continues to carry out that vision by raising much needed funds for underprivileged children through his Foundation. Since its establishment in 1983 by Marc Player, The Player Foundation has raised almost $60 million worldwide to create a brighter future for those in need.
2015 will hold many reasons for celebration. In addition to the 50th anniversary of the Grand Slam, Player will celebrate his 80th birthday on November 1.
"Rest is rust," said Player. "Age is just a number. I am thrilled to celebrate my 80th birthday in November, but in my mind I am still in my 40s."
While life does not seem to slow down for Player, he will have a busy year in 2015 as he travels to each of the Major Championships to commemorate the Grand Slam, but is also busy with an ever-expanding golf course portfolio of almost 400 projects and flourishing global corporate relationships.
About Gary Player
Gary Player, often referred to as the Black Knight symbolizes all that world-class golf is or was ever intended to be. A champion in every sense of the word, he has won 165 professional tournaments worldwide and through the philanthropic efforts of his foundation generated nearly $60 million dollars for the education of underprivileged children. Player, a master of the game and a world leader in golf course design, is credited with shaping more than 350 courses worldwide.
When Gary Player won the US Open in 1965 at age 29, he became only the third golfer to win the Grand Slam, following Ben Hogan and Gene Sarazen. Since then, only Jack Nicklaus and Tiger Woods have added their names to this elite group. Player has, to date, won nine major championships on the regular PGA TOUR and nine on the Senior or Champions Tour. He is a three time President's Cup Captain and in 2000 received South Africa's Sportsman of the Century Award.
In addition to his 40 years of golf course design, Player currently serves as the Global Ambassador to the World Golf Hall of Fame and holds an Honorary Doctor of Laws degree from St. Andrews University. His legendary career and humanitarian endeavors have been acknowledged through numerous awards, including the 2012 PGA TOUR Lifetime Achievement Award, the 2006 PGA TOUR Payne Stewart Award, and the 2003 Laureus Lifetime Achievement Award.
Born in Johannesburg, South Africa, Player has circled the globe in pursuit of sporting events, and after journeying over 15 million miles (or 25 million kilometers) he is widely recognized as The World's Most Traveled Athlete. When not traveling to or from sporting events, Player spends his time on his South African stud farm, where he has bred more than 2,000 winning thoroughbred racehorses.
Contact:
Grace Vine, Gary Player Group
Tel: 864-477-2720
Email: grace(at)garyplayer(dot)com
Spencer Castillo, Castillo & Ruig
Tel: 310-664-8843
Email: scastillo(at)discovercrc(dot)com