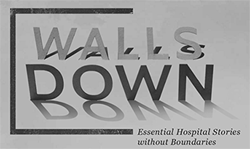 Essential hospitals are a constant and reliable presence for the entire nation
WASHINGTON, DC (PRWEB) January 13, 2015
Through rich storytelling and an interactive and visually compelling format, a new online magazine, Walls Down, explores innovative stroke care at a large Atlanta hospital, neonatal intensive care across the country, and emergency response at the nation's essential hospitals.
Produced by America's Essential Hospitals, which represents more than 250 hospitals that care for the nation's poor and underserved, Walls Down, at wallsdownmag.org, brings the human aspect of health care to the forefront as patients and providers share their stories of lifesaving care.
"Walls Down shows a side of essential hospitals that many people might not know exists, but that could one day save their life or the life of a family member," says Bruce Siegel, MD, MPH, president and CEO of America's Essential Hospitals.
The magazine's centerpiece story, "Navigating Tracie's Brain," describes how Atlanta's Grady Health System changed the model of stroke care as it takes readers through the story of a local woman's transformation from nearly homeless stroke patient to vibrant artist and health care advocate.
Readers also can follow the story of Jacob, who, at 14 ounces, was one of the smallest babies ever born at LAC+USC Medical Center in Los Angeles. Jacob's story of overcoming immature lungs, abnormal blood flow, and a risk of double blindness frames stories of neonatal intensive care at hospitals across the country in "Born Early: When Life Begins in the NICU."
This inaugural issue of Walls Down focuses on these and other specialized, lifesaving services at essential hospitals, which provide much of the country's trauma and neonatal intensive care, burn care, and disaster response. As the magazine's editors point out, the need for these services has always existed. But it wasn't until the 1960s that formal training and organization of hospital units around emergency services developed at many of the hospitals that eventually joined to form America's Essential Hospitals.
"Trauma centers are a relatively recent occurrence and have their roots in work at some of the nation's most prominent hospitals for the vulnerable, such as San Francisco General Hospital and Cook County, in Chicago," says Walls Down writer and co-creator, Sandy Laycox, MFA.
An interactive timeline on Walls Down walks readers through disaster response efforts by essential hospitals over the past 30 years - from the 1985 crash of Delta Airlines Flight 191 in Dallas to last year's Ebola threat. Walls Down also asks a provocative question - "What if essential hospitals didn't exist?" - and answers with an interactive map of compelling data points on the lives touched by essential hospitals across the country.
"Essential hospitals are a constant and reliable presence for the entire nation," Siegel says. "Walls Down tells that story and reminds us all why it's so important to support these institutions and the communities they serve."
# # #
About America's Essential Hospitals
America's Essential Hospitals is the leading association and champion for hospitals and health systems dedicated to high-quality care for all, including the most vulnerable. Since 1981, America's Essential Hospitals has initiated, advanced, and preserved programs and policies that help these hospitals ensure access to care. It supports members with advocacy, policy development, research, and education.
Our more than 250 members are vital to their communities, providing primary through trauma care, disaster response, health professionals training, research, public health programs, and other services. They innovate and adapt to lead the broader health care community toward more effective and efficient care. Visit EssentialHospitals.org to learn more.