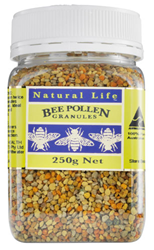 We hope this positive attention helps move bee pollen from a niche health product to a mainstream health favourite
Sydney, Australia (PRWEB) January 15, 2015
Interest in Bee Pollen is gathering momentum as the incredible nutritional properties of this natural superfood are being brought into the mainstream by health bloggers and wellness advocates.
Antony Adare, Director of Lifetime Health Australia says "we've been selling pure Australian bee pollen for many years, but it has remained a very niche kind of product."
"We hope this positive attention helps move bee pollen from a niche health product to a mainstream health favourite," said Mr Adare.
An article from the Independent UK online (January 7, 2015) tipped bee pollen as one of the top 10 new superfood trends for 2015.
MacroInsider.com from the USA recommended Bee Pollen as a food to be consumed every day in an article published Dec 31st, while the online publication bonappetit.com included bee pollen in a January 2015 recipe post.
This bodes well for Lifetime Health Australia, with Natural Life™ Bee Pollen a key product in its stable of bee health superfoods for more than ten years.
Natural Life™ Bee Pollen is well known in its niche health category as a high purity, premium quality brand of bee pollen.
Demand for Natural Life™ Bee Pollen is expected to rise rapidly during 2015.
Internationally, Australian bee pollen is highly valued, as Australian bee farms are among the most natural and unpolluted in the world.
Natural Life™ Bee Pollen is a stable, reliable source of pure Australia Bee Pollen, and is 100% Australian-Made and Australian Owned.
Natural Life™ Bee Pollen is available online from lifetimehealth.com For a list of retailers in Australia, visit naturallife.com.au
Sources:
For the Independent UK top ten superfoods for 2015, see: independent.co.uk/life-style/food-and-drink/features/forget-kale-and-manuka-honey-from-bulletproof-coffee-to-bee-pollen-these-are-the-healthy-food-trends-for-2015-9962079.html (accessed January 7th, 2015)
To read the MacroInsider.com article on bee health foods, go to: macroinsider.com/health/3-bee-products-you-should-be-using-every-day-h23085.html (accessed January 7th, 2015)
To see the full bonappetit.com bee pollen recipe, visit: bonappetit.com/recipe/five-grain-porridge-with-bee-pollen-apples-and-coconut (accessed January 7th, 2015)