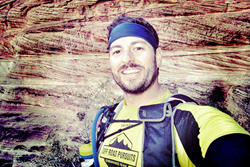 Like it or not, there is a conversation about your brand taking place across the social web.
San Diego, CA (PRWEB) January 13, 2015
San Diego's premier marketing conference, The Art of Marketing, presented by the American Marketing Association (AMA) San Diego Chapter, is taking place Friday, January 16th, 2015. As a past AMA award-winning agency, Geary LSF is pleased to announce they will be represented at the conference by Senior Social Media Strategist, Toby Guillette. Mr. Guillette will be kicking off the day as a panelist in the first breakout session on the topic of social media strategy and engagement.
"Like it or not, there is a conversation about your brand taking place across the social web and it's more important than ever for your brand to be present, your message to be clear and your voice to be consistent," says Toby Guillette, Sr. Social Media Strategist presenting at the conference. "At Geary LSF, we're all about connecting brands with their customers through authentic online engagement to increase brand awareness, and ultimately, drive more conversions."
In its 4th year, the interactive conference features a full day of local and national speakers, panels and sessions designed to empower marketers with real-world solutions. Content topics include content marketing, social media, big data, SEO and more across a variety of industries and business models.
For more information about the event, or to purchase a ticket, please visit the AMA website here. If you're interested in learning more about Geary LSF's unique, award-winning approach to social media, please email sales@gearylsf.com.
About Geary LSF
Geary LSF is a full service digital marketing agency headquartered in San Francisco, with additional offices in San Diego, Chicago, Boston, Philadelphia and St. Louis. Specializing in an omni-channel marketing approach, the team turns digital ambitions into business results for more than 450 brands worldwide including: Bumble Bee Foods, Target, Ashley Furniture, Megapath, Aramark and several others. For more information, please visit http://www.gearylsf.com.
About Toby Guillette
Toby Guillette helps clients navigate the chaos of the ever-changing social web with innovative social media marketing solutions. He has developed a systematic approach for creating and executing custom social media and content marketing strategies, as well as community management, social listening, customer engagement and social support solutions.
He holds a Bachelor of Arts in Sociology from the George Washington University and is a two-time 100-mile ultra marathon finisher, mountaineer and all-around ambassador of the active lifestyle.