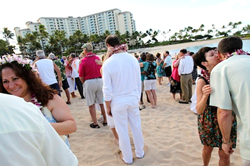 i (PRWEB) January 12, 2015
Ko Olina, Hawai' Ko Olina Resort welcomes loving couples of all ages to join in the fun of West O'ahu's third annual Valentine's Day vow renewal celebration. First held in 2013 alongside the scenic Ko Olina Resort lagoons, the 2014 event drew over 100 heartfelt participants. Help us top that with a spectacular loving turnout in this very special place of joy!
WHAT: Share your love on Valentine's Day and help make this year's Ko Olina Vow Renewal ceremony Hawai'i's largest yet. Along with re-igniting sparks of love on one of O'ahu's most picturesque beaches, the non-denominational, free event will include sentimental Valentine's-themed contests and prize giveaways
DATE: Saturday, February 14 on Ko Olina's Nai'a Lagoon 3
SCHEDULE:
8:30 a.m.: Couple arrivals & check-in; opportunity to capture personal photos on the beach
9 – 9:30 a.m.: Ko Olina Vow Renewal Celebration
ACTIVITIES: We'll be mixing it up with fun Valentine's Day contests!
REGISTER: Pre-registration is encouraged; to register visit koolina.com.
EVENT PARKING: Free public parking available at Nai'a Lagoon 3 and Ulua Lagoon 4 parking lots.
LEARN MORE: Visit koolina.com for additional information on the event or to book accommodations at any of our resort properties.
About Ko Olina Resort
Ko Olina is a 642-acre master-planned resort community on the western shore of the island of O'ahu. Resort partners include Ihilani Resort & Spa at Ko Olina, Marriott's Ko Olina Beach Club, Marriott's most successful vacation club product in the world, Ko Olina Beach Villas Resort, Aulani, a Disney Resort & Spa, Disney's first family destination resort outside of its theme park developments, Ko Olina Golf Club, Ko Olina Station retail center and the state-of-the-art Ko Olina Marina. The resort, known as O'ahu's premier vacation destination, also features seven pristine oceanfront lagoons connected by 1.5 miles of shoreline pathways, access to a diverse selection of ocean and outdoor activities and the island's best weather. For more information, visit http://www.koolina.com