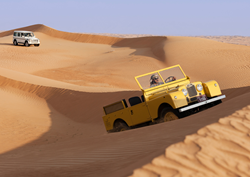 Dubai, UAE (PRWEB) January 13, 2015
Platinum Heritage is an innovative boutique tourism company that offers private safari tours through the private areas of the Dubai Desert Conservation Reserve. With their combined expertise in luxury, culture, wildlife, and history - Platinum Heritage conducts their tours with an authenticity unlike any other adventure tour company. For their Dubai desert safari tours, Platinum Heritage uses 1950's Series 1 Land Rovers along with Mercedes G-Class Wagons. Platinum Heritage prides themselves on providing unique luxury tours and introducing international travellers to Dubai.
Platinum Heritage Tours are proud to announce that as of this month, their luxury safari tours will be showcased on Expedia's "Things to Do" section for Dubai. Expedia is primarily used to book flights, hotels, cars, and excursions while travelling, and now users will have access to book any of Platinum Heritage's ten unique Dubai desert safari tours. "Having our company listed on Expedia is an honour. It allows us to reach a much wider audience with estimated over 63 million monthly visitors. Dubai is the most popular travel destination within the Middle East, and with our tours we hope to positively impact the future of tourism in the UAE. We look forward to our continued partnership with Expedia" says Adam McEwan, founder and Managing Director of Platinum Heritage.
Being featured on Expedia is certainly not the first time the company has been featured on a major travel website. They are already listed on leading tours marketplaces and travel reviews sites such as Viator and GetYourGuide, where they consistently receive positive reviews. Most notably, Platinum Heritage is ranked as the top Dubai desert safari tour on TripAdvisor, and proudly holds the second spot for most popular thing to do in Dubai out of 453 activities listed. Within the last two years, Platinum Heritage has received a number of achievements for their luxury tours. This includes ranking as a finalist for the 2015 Green Tourism Awards, along with the 2015 International Business Excellence Awards. They were the winner of the SME Start-Up of the Year in 2013 and holds the spot as the only UAE representative for World Responsible Tourism Day of 2014.
Platinum Heritage Tours looks forward to welcoming new guests through Expedia and encourages interested individuals to view their website directly for more information. The Platinum Heritage website can be viewed here
###