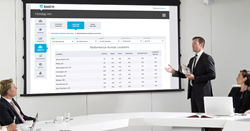 BirdEye's new Enterprise Analytics engine provides actionable insights designed exclusively for enterprises.
Sunnyvale, CA (PRWEB) January 13, 2015
BirdEye, leader in Online Reputation Management, announced today the general availability of Enterprise Analytics engine as part of its comprehensive business reputation management platform. BirdEye's new analytics engine adds actionable insights designed exclusively for enterprises to its core online reputation management platform.
Enterprise Analytics enables enterprises to use BirdEye's proprietary natural language processing and machine learning to mine customer feedback for 1000s of locations from hundreds of consumer sites. This data is rendered in both at-a-glance and deep-dive visualization reports that help businesses to quickly identify and address tactical issues, understand what is driving customer satisfaction and prioritize operational improvements.
"As an enterprise with multiple locations across several regions, we realized that it was essential to our competitive advantage to master our online reputation", said Ernest Medina, VP of Marketing at Healthpointe. "We initially selected BirdEye for its reviews and ratings platform, and gained more than 5000 authentic reviews in the first nine months. With BirdEye's Enterprise Analytics, we discovered in past two months that our #1 patient concern was wait times. We're implementing changes to reduce wait time, and have already seen better patient satisfaction."
BirdEye Enterprise Analytics consists of reports and insights featuring a full range of big picture and drill-down charts and metrics:
Enterprise Dashboard
Executive dashboard is the "BirdEye view" of reputation heat map for all locations or products.
Review Reports
Review reports take all customer reviews from throughout the Internet to create charts such as Reviews By Location/Product, Reviews Over Time, Average Rating By Location/Product, and Average Rating Over Time.
Sentiment Reports
Enterprises can gauge customer sentiment with reports pulled for Sentiment By Location/Product and Sentiment Over Time.
Traffic Reports
With customer reviews being posted 24/7 on hundreds of consumer sites, enterprises can run traffic reports like Reviews By Source and drill down into specific review sites like Google, TripAdvisor.
Insights
The key to product and service improvement is found in customer feedback. BirdEye uses Natural Language Processing (NLP with machine learning) to assess customer sentiment from keywords within customer reviews.
Keyword Analysis
With keyword analysis, enterprises have a real-time path to uncovering service or product shortcomings. Reports in this class include Frequent Keywords, Positive Keywords and Negative Keywords.
Location Analysis
In the location analysis reports, enterprises uncover key insights from charts and compare Performance Across Locations/Products. Business can create and track performance by operational metrics such as Price, Food, Amenities, Entertainment and Customer Service.
Trend Analysis
Trend analysis reports help enterprises identify trends and track changes in keyword rating for one or thousands of locations. These reports include Keyword Rating Over Time and Keyword Sentiment Over Time.
Availability
To get a personal tour of BirdEye Enterprise Analytics call sales at 1-800-561-3357 ext 5 or email enterprise@birdeye.com. The BirdEye Business Reputation Management platform can be previewed at http://birdeye.com.
About BirdEye
BirdEye (birdeye.com) is a leader in Business Reputation Management. The BirdEye platform allows businesses to amplify their online reputation to get more word-of-mouth referrals, leads, and repeat customers. Businesses monitor reviews from all major sites, gain new reviews, manage customer feedback, and automatically promote their good reputation across the web, social media and search engines. Enterprises use BirdEye analytics to glean insights from customer feedback to fine-tune products, services and operations. The BirdEye platform powers 500K businesses and 10M+ reviews. Based in Sunnyvale, CA, BirdEye was founded by alumni from Yahoo, Google, Amazon and Cisco.
For more information, contact William Moeller
william(at)birdeye(dot)com | 408.457.1348 | 800.561.3357 | http://birdeye.com