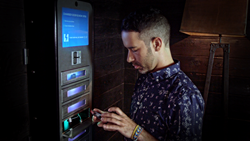 Mobile FirstLook attendees will enjoy unlimited charging sessions and experience the marketing power and potential of the Brightbox brand messaging platform
New York, NY (PRWEB) January 14, 2015
Brightbox, Inc. (http://www.brightboxcharge.com), the leading platform provider of networked, safe and secure mobile device charging, is pleased to announce it will be enhancing the attendee experience with its Brightbox® Mark3 Mobile Charging Platform at Mobile Marketer's fourth annual Mobile FirstLook: Strategy 2015 conference at the Time-Life Building in New York's Midtown Manhattan, January 14th and 15th.
The two-day summit, organized by Mobile Marketer publications, brings together retailers, ad agencies, publishers and brands interested in developing and implementing mobile-surround strategies. The 200 delegate exclusive event centers around brand and retailer-led keynotes as well as panel discussions on various mobile verticals and disciplines.
The new Brightbox® Mark3 mobile charging platform, which enables consumers to continue to communicate, navigate, search, shop, share, pay and play on their mobile devices, is the most innovative, safe and secure mobile device charging solution available today. Users simply swipe a credit/debit or complimentary card to open an available station chamber, plug in their mobile device, close the chamber and return later to swipe the same card to retrieve their charged phone.
The Brightbox customizable and secure mobile device charging amenity features a strong messaging platform that is ideal for brand and sponsorship opportunities. High resolution interactive touchscreens have short video and slide show capability for innovative delivery of messaging, offers and brand promotions. Exclusive offers are also available via branded key cards specifically tailored for customers and events.
Mobile FirstLook attendees will enjoy unlimited charging sessions via Brightbox lockers that will be present and available throughout the conference at all sessions and break rooms. The top CMO's, CEO's and marketers for mobile and luxury brands will get a "first look" and interaction with Brightbox charging stations, discovering the marketing power and potential of its brand messaging platform while experiencing the delight of staying fully charged and engaged throughout the event. They can attend sessions, network, take meetings and work, resting assured that their phones are being safely and optimally charged in a station that delivers both data privacy and physical security.
Brightbox, perfect for marketing and promotions, is the latest technology that can be customized to client need. The Brightbox® Mark3 features a 10" interactive touch screen, customizable swipe cards and a strong brand-messaging platform. The UL and agency certified stations ensure the physical security and data integrity of phones being charged, are PCI compliant with a best-in-class encrypted card reader and meet the highest standards for safety and security. They offer retractable charging cables and larger chambers that can accommodate nearly any mobile device, including the latest phablets, while delivering the safest fast charge possible at optimized manufacturer recommended rates.
"We're delighted to be the charging amenity for Mobile Marketer's annual conference," said Joel Martin, Global Events Director of Brightbox. "We're looking forward to connecting with top marketers and brands in mobile while enhancing their experience and meeting all their charging needs."
About Brightbox
Brightbox® is a New York City based end-to-end technology solutions company providing venues and users with best-in-class and robust mobile device charging platform for marketing, sponsorship and venue interaction. Founded in 2011, Brightbox delivers advanced and innovative charging solutions and has deployed its secure charging lockers in 3 countries and 20 states in a variety of event and vertical markets that include hospitality, entertainment, healthcare, retail, education, transport and beyond.
Event customers include AOL, AdWeek, American Airlines, BBC Comic Con, CEDIA, Discovery Channel, Detroit Grand Prix, Event Tech, IBM, IMEX, Inc. 500/5000, New York Fashion Week, New York Times Travel Show. Other enterprise customers include Hilton, Hyatt, Sheraton, Caesars, MGM, Heineken, RadioShack, New York Red Bulls, Tampa Bay Rays, Baystate Health, Mount Sinai Health, Orlando Health, American Airlines and British Airways. Learn more at http://www.brightboxcharge.com @brightboxcharge
About Mobile Marketer's FirstLook: Strategy 2015
The fourth annual Mobile FirstLook: Strategy 2015 conference Jan. 14-15 at Time & Life Building, 1271 Avenue of the Americas, 8th Floor Gallery, New York, NY, features speakers from Coca-Cola, GE, Time Inc., Forrester Research, American Eagle Outfitters, eBay's StubHub, Twitter, Yahoo's Tumblr, Deloitte and The New York Times.
This two-day New York event is a must-attend for brands, retailers, ad agencies and publishers looking to develop and implement mobile-surround strategies and tactics in 2015, a year where mobile integration into other channels and mediums will question orthodoxies in marketing and retail. Learn more at: http://www.mobilefirstlook.com.