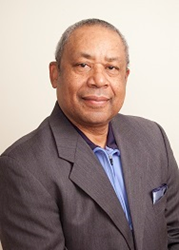 Professor Drake has long provided our students with critical skills for the future, and we are very sad to lose his extremely knowledgeable and real-world approach to information systems issues."
Takoma Park, Maryland (PRWEB) January 13, 2015
Washington Adventist University (WAU) faculty, staff and students this week are mourning the January 9 death of Adjunct Professor Johnnie E. Drake, Ph.D., who taught information systems technology and business strategy courses for the School of Graduate and Professional Studies (SGPS) for more than 15 years.
"Professor Drake has long provided our students with critical skills for the future, and we are very sad to lose his extremely knowledgeable and real-world approach to information systems issues," said Nicole Currier, dean of the WAU School of Graduate and Professional Studies. "He was an outstanding educator, and his loss is already being felt across this campus."
Drake began teaching in the university's School of Graduate and Professional Studies (formerly known as the Adult Evening Program) in 1999. The courses he taught included Introduction to Computer Concepts, Advanced Computer Concepts, System Analysis and Design, Introduction to Programming, IT Project Management, Essential Supervisory Techniques, Health Care Information Systems, Essential Supervisory Techniques, and Business Strategy.
He earned his Ph.D. in organizational management in 2009 at Capella University in Minneapolis, Minnesota, and earned two master's degrees from Webster University in St. Louis, Missouri – one in computer resource management in 1989, and the other in business management in 1986. Drake earned his bachelor's degree in sociology from the University of Wyoming in 1980.
Drake served more than 25 years in the U.S. Air Force, where he rose to the rank of major and oversaw the personnel needs of more than 44,000 active duty members, retirees and their dependents. Upon his retirement, he served in a variety of computer management roles, including at the Pentagon as chief of on-site operations and instructional systems for KEI Pearson. He also worked in Arlington, Virginia as a program manager and senior instructional systems designer/lead trainer for Pearson Analytic Solutions; and as a senior analyst and training manager for Analytic Services, Inc.
The funeral for Johnnie Drake will be held at 11 a.m. on Wednesday, January 14 at Lee Funeral Home, 6633 Old Alexandria Ferry Road, Clinton, MD 20735. A viewing will be held that same morning at 10 a.m., immediately prior to the funeral. Following the funeral service, a repast will be held at Colony South Hotel, 7401 Surratts Road, Clinton MD 20735.
# # #
Washington Adventist University is Montgomery County's only four-year private college. Part of the Seventh-day Adventist system of higher education, Washington Adventist University has been educating college students since 1904 on a 19-acre campus in suburban Takoma Park, close to the nation's capital. A total of 1,080 students of all faiths participate in the university's eight graduate and 32 undergraduate programs. The 2014 edition of U.S. News & World Report ranked Washington Adventist University among the best regional colleges in the north.
Media Contacts:
Angie Crews, 301-891-4134, acrews@wau.edu
Donna Bigler, 240-286-1169, dbigler@wau.edu