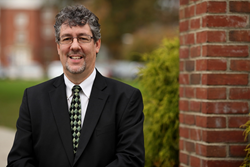 This information provides a clear profile of Adventists in the Baltimore-Washington Area, along with candid responses from members about Adventist Education that is vital for school leaders and educators.
Takoma Park, Maryland (PRWEB) January 14, 2015
The results of a study on Seventh-day Adventist (SDA) demographics in the Baltimore-Washington metropolitan area were presented recently at the Adventist Community Action Council's first meeting of the new year. The group is comprised of leaders of Adventist churches, organizations and community groups who coordinate their efforts and resources to address key community issues. Although the study was completed in 2009, the results were again presented to help new ACAC members better understand Adventist demographics and perspectives as they plan their activities for 2015.
Washington Adventist University Professor John Gavin, who is also the Director of the Center for Metropolitan Ministry, conducted the initial study six years ago, and compared data with previous studies from 1987 and 2004. The study included a telephone survey in mid-2008 of 379 randomly-selected Adventist families in the Baltimore-Washington metropolitan area.
"This information provides a clear profile of Adventists in the Baltimore-Washington Area, along with candid responses from members about Adventist Education that is vital for school leaders and educators who are members of the ACAC," reports Gavin.
The study indicates that there were more than 22,000 Adventists living in the area in 2009. The highest concentration of local Adventist members, schools and churches at the time were concentrated in Montgomery and Prince George's Counties along the Route 29 and Interstate 95 corridors. Other notable clusters were located in the Baltimore area and the Frederick/Hagerstown areas, as well as Southern Prince George's County.
The 2009 study showed that 60 percent of Adventists were non-Hispanic whites, while 18 percent were African American, 7 percent were Asian or Pacific Islander, 6 percent were Hispanic, and about 9 percent identified as multiracial or an ethnic group other than the choices provided.
In comparing the data with previous studies, the ethnic profile of the local Adventist membership is clearly changing. Between 1987 and 2009, the percentage of parents who are white dropped by half, while all other ethnic groups grew. The Asian and Hispanic segments increased five-fold, which is reflected in the continued growth of immigrant churches. Nearly half of the families reached – 44 percent -- included at least one parent who is an immigrant to the United States.
Some notable results from the survey indicated that Adventist families are primarily middle-class, with 40 percent falling into the $50,000 to $99,000 income range; and 23 percent earning $100,000 or more annually. The Adventist families also tend to be more educated than the general population, with nearly 60 percent holding a college or graduate degree.
More than a third (36 percent) of Adventists fell into the "before Baby Boom" generation (ages 77-100), and 43 percent fell into the Baby Boomer generation (ages 45-63 at the time of the survey in 2009). Only 12 percent were Generation X (ages 33 to 44 in 2009), and only 4 percent were Millenials (ages 15-32 in 2009). Only 28 percent of those families surveyed had children at home.
The number of respondents who said they attended church weekly fell from a high of 86 percent in 1987 to 55 percent in 2009.
The study was commissioned by the ACAC and funded by Washington Adventist University, the Potomac, Chesapeake and Allegheny East Conferences, Takoma Academy, and Sligo School.
The Adventist Community Action Council includes representatives from Washington Adventist University, Adventist Community Services of Greater Washington, Sligo Seventh-day Adventist Church, Washington Adventist Hospital and Adventist Healthcare, the Columbia Union Conference of the Seventh-day Adventist Church, the Potomac Conference Adventist Book Store, WGTS Radio, Takoma Academy, Sligo Adventist School, John Nevins Andrews School, George E. Peters School, Takoma Park Seventh-day Adventist Church and the Metropolitan Seventh-day Adventist Church.
The council routinely meets the second Friday of each month at 8:30 a.m. in the Columbia Room of Washington Adventist University's Wilkinson Hall. For more information about the organization, or to confirm that the location and time haven't changed for a particular meeting, contact Erwin Mack at [email protected]
For copies of the Adventist demographic study, contact Professor John Gavin at [email protected]
# # #
Washington Adventist University is Montgomery County's only four-year private college. Part of the Seventh-day Adventist system of higher education, Washington Adventist University has been educating college students since 1904 on a 19-acre campus in suburban Takoma Park, close to the nation's capital. A total of 1,080 students of all faiths participate in the university's eight graduate and 32 undergraduate programs. The 2014 edition of U.S. News & World Report ranked Washington Adventist University among the best regional colleges in the north.
Media Contacts:
Angie Crews, 301-891-4134, acrews(AT)wau.edu
Donna Bigler, 240-286-1169, dbigler(AT)wau.edu